Frontpage
President Buhari projects GDP growth of 3.5% in 2018 as he presents budget of consolidation to National Assembly
November 7, 20171.8K views0 comments
President Muhammadu Buhari on Tuesday formally presented an N8.6 trillion 2018 budget to a joint session of the National Assembly, projecting a gross domestic growth of 3.5 percent in 2018.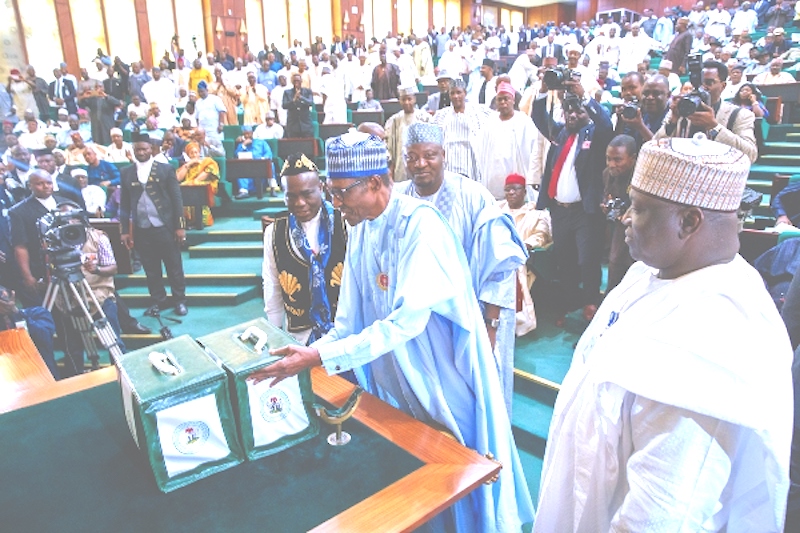 Dubbed the 'budget of consolidation,' the 2018 budget is about 16 percent higher than the N7.44 trillion appropriated in 2017.
The president said the budget is projected at an oil price of $45 per barrel with the production estimate of 2.3 million barrels per day. He equally noted that the budget is further projected on an exchange rate of N305/$1, a real gross domestic growth of 3.5 percent and inflation rate of 12.4 percent.
"At present, domestic debts account for about 79 percent of the total debt. We will reduce this to 60 percent in 2018 and increase external to 40 percent. Our commitment to the security of lives and property remain absolute," he said.
The President said N9.8 billion will be set aside for the Mambilla power project and N300 billion for construction and rehabilitation of roads.
Budget provision to the Niger Delta Development Commission increased to N53.89 billion from N34.2 billion in 2017.
"We will increase our focus on cybercrime and abuse of social media through hate speech," Buhari stressed as he appealed to the National Assembly to swiftly consider and pass the 2018 Appropriation Bill.