Markets
Rise of Mobile Trading & Investing in Africa – What are its Benefits and Limitations
January 3, 2021357 views0 comments
Access to smartphones and the internet has expanded rapidly in Africa since 2000. According to a GSMA report, there will be 475 million internet users by 2025 in the region, and the mobile industry will be contributing 14% of the entire African GDP by 2024.
One of the major reasons for this growth is the rising popularity of OTT services and mobile banking.
Smartphones are not a luxury anymore in Africa, in fact it is an integral part of everyday life providing crucial applications to users. Africans use their Smartphone devices over desktop devices for various applications like communication, banking, payments, information, investing, betting etc.
Smartphones and mobile internet have made services like mobile banking and information reach remotest corners of Africa.Key examples of mobile technology, usage and sucess in Africa include Mobile money and recent growth in finance sector, local playersare leveraging mobile technology to reach users for lending, payments and investing.
Today, Mobile phones help more than 50% Africans access banking services, investment opportunities and remain socially connected. Thanks to the booming mobile money economy, companies like MPesa in East Africa, Paga in Nigeria are providing an easy way to transfer money between mobile devices.
In recent decade, online trading has also grown in Africa, and this sector has benefitted the most from mobile penetration and technology.
Many brokers and investing apps have started in Africa offering Stock, Mutual Funds, Derivatives, Commodities, Forex and Cryptos.Most of which are used by smartphone users,examples include – CowryWise, PiggyVest, Rise, Wealth.ng in Nigeria;FXPesa, Faida, Scope markets in Kenya; Easy Equities, Hotforex, Luno, Ice3X in South Africa.
With the rise of these mobileinvestment platforms, many mobile users today invest in different kinds of investment products easily.
However, despite its benefits, the use of mobiletechnology in trading has many drawbacks and limitations.
We look at key benefits and limitations of this technology so that users can better understand before getting into it: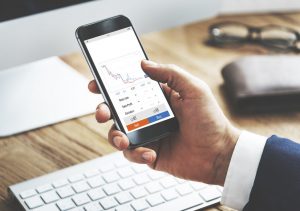 Key benefits of using Mobile Technology in Investing
Ease of Access for placing orders
People can now easily access the markets and place their trading orders at much ease on mobile trading apps. For this, they just need an Android or IOS phone with mobile internet which is relatively cheaper to desktop devices.
As computer penetration in the African region remains low, mobile apps have emerged as a better option for most Africans.Many local online brokers provide trading services through mobile apps.
Easy to understand and user friendly
MostTrading applications in Africa are designed with mobile first focus. They have great UI and UX, resulting in a simple and smooth experience for its users. Most apps are very easy to use and provide free tools to make informed decisions. The user-friendly interface has helped a lot of people to try their hands with financial trading.
Notification facility
The notification feature allows app users to remain abreast with the latest market news, currency-fluctuations, and recommendations. The weekly or daily emails, SMS and push notifications are also provided by brokers to keep them informed about the latest development. It helps the users to make informed decisions as well as don't miss out on any profitable opportunities.
Cheaper compared to other devices 
Mobile phones have advanced very fast in past decade and have become cheaper and more accessible. Gone are the days when mobile phones used to be a mere feature phone. Now one can buy a smartphone under $75.
With increasing RAM and processing powers, mobile devices have now become a mini workstation for many Africans. Providing an easy and affordable device to invest in various financial instruments through mobile apps.
Live market data, news &Portfolio management
Most trading apps provide live market data for various financial products from stock indices and commodities to currencies and derivatives. One can access all the investments and past transactions on the app, enabling users to change their trading strategies or investment portfolio in no time.
Research reports, historical chart and analysis 
Most of the IOS and Android investing apps come with various trading tools and features that could be used to make informed investments. Tools like MT4/MT5, Tradingview, Bloomberg, Yahoo Finance and Charles Schwabprovide easy access to historical charts and analysis on their mobile apps. Local Brokers also provide research reports on various instruments and local exchanges that can be easily viewed on mobile devices.
Can be used on the move and remotely 
Most Countries in Africa such as Nigeria, Kenya, Ghana and Uganda are benefiting from low-cost internet and widespread use of mobile devices. Today from farmers to traders are using mobile apps to access commodity and financial markets and place orders, no matter where they are located. Mobile devices have freed them from traditional ways of trading and investing. You can be on move and still be accessing financial markets with your mobile internet. You can monitor, open, close your orders on time while on move.
Low Data Usage
In comparison to other devices, mobile phones consume fewer data. Much thanks to falling prices of internet data packages, access to retail trading is now much become cheaperand easier than ever. Also, the trading apps are optimized to consume less data, resulting in lower internet usage and better operating even in low bandwidth (2G and 3G).
Works on Low Power
As most African countries continue to grapple with lower electricity production. Mobile devices have emerged as a much better option that consumes very less power than traditional devices.
Limitations, Drawbacks &Challenges of Mobile Investing
Too easy to access markets  
People looking for making a quick fortune through investing often place their bids like they are playing an online game. Mobile applications have attracted all kinds of traders especially newbies who jump on trading without much knowledge. For instance, the unwise use of leverage could result in substantial losses. There are a whole lot of risks involved with online trading including market risk, inflation risk, horizon risk, and others, which traders are not aware of. Traders are advised to start with low investments and educate themselves.
Although mobile trading apps provide convenience to use, the majority of them don't provide access to all financial products like derivatives, currency indices, and international stock-indices. Even many trading features are available only with desktop applications.
To fully understand the research reports and make sense of charts and graphs, traders often resort to bigger screen devices, computers, or iPad. A lot of trading features remain limited to desktops, thus limiting the comprehensive use of trading platforms on mobile devices.
Lack of Advanced Features
Due to its smaller screen,a lot of advanced trading features are not viable or available on mobile applications. Although a customized version of trading platforms are also available on small screen devices, they lack the advanced features require for active trading.
Poor Mobile connectivity and Slow speed
Connectivity remains a problem in remote areas of the African continent. Except fora few countries such as Nigeria, Kenya, South Africa,Uganda, Egypt and Liberia, most of the countries lack fast internet access. The low network can cause a lot of issues while trading with a mobile app. For example, you could make a partial loss at the time of placing an order if the internet bandwidth is too low to process your request.
Need for educating investors 
Investment without the knowledge of financial instruments can multiply the risks associated with online trading. One needs to educated about stock indices, currency trading, charts and graphs, news parsing, historical data, and understand the various risks associated with each of the instruments. Investment books, credible websites like Investopedia.com,    forexfactory.com,  ForexTrading.ng  and  online trading courses are the best places to start with beginner investing and trading topics. One can also start with a Demo Account to learn the basics of online trading before investing any real money.
Regulatory frameworkis perhaps the foremost factor when it comes to online investing.
Many African countries have not yet regulated financial instruments like Cryptos and forex.Yet many trading apps are providing these products. Which raises safety concerns for many investors.
Choosing a regulated online broker is important to keep the investments safe from scams and unwanted risks. Stock trading is comparatively better regulated than forex and crypto-currencies in Africa. CMA of Kenya, SEC of Nigeria, and FSCA of SA are the most trusted regulators in Africa.
In South Africa, JSE is the biggest stock& commodity exchange in Africa connecting buyers and sellers around the world to trade in African equities, equity derivatives, agricultural derivatives, and interest rate instruments.A stock broker or app must have license from JSE to offer such services. While Forex and CFD brokers in SAmust be regulated by FSCA.
Kenyan forex and equity brokers are governed by CMA. So,investing apps must be regulated by CMA to offer forex, stock trading, mutual funds and CFDs.
While in Nigeria, NSE and SEC issues licenses only for stocks and mutual funds trading apps. And forex trading is still unregulated.
As forex and Cryptos is still widely unregulated. Most African and Nigeriantraders often choose a forex trading platform that is regulated by globally reputed regulatorslike CySEC or FCA for their safety.
In the End
Despite the possible drawbacks of mobile trading, it has made a positive effect on many lives. Once the information available only to a handful of people is now available to access by anyone having a smartphone.
Nevertheless, easy information and access don't mean the retail investments are without their drawbacks. Challenges like proper connectivity, tighter regulations and need for educating investors has to be taken care of.
Credible and trustworthy regulation regime is needed locally all over Africa that oversees investing apps and protects investor interests. Secondly, people need to be educated about financial products and the associated risks that come with them.
The Mobile trading apps need to find a mechanism that ensures that unqualified traders are not entertained on the app. It's also the responsibility of retail investors to invest only what they could afford.
Overall, Africa is today on the cusp of a mobile revolution that could perhaps help everyone. But without credible regulation and financial education, mobile trading might turn into lost opportunity.