Asia
Saudis Arabia in close talk with world biggest tech companies about $500bn new city
October 27, 20171.2K views0 comments
Crown Prince Mohammed bin Salman said Saudi Arabia is in talks with some of the world's biggest companies to develop technologies that will power life in the $500 billion city he's planning to build on the Red Sea.
Neom, as the project is known, is due to open for business by 2025, with limited operations expected as early as 2020, Prince Mohammed told Bloomberg News in an interview in Riyadh on Wednesday. Amazon.com Inc., Alibaba Group Holding Ltd and Airbus SE are already involved in discussions, he said.
"We are talking with everyone," said the 32-year-old prince, heir to the throne of the world's biggest oil exporter. "We have the 'who's who' from around the world engaging in this."
Prince Mohammed is trying to steer Saudi Arabia away from oil-dependence, something that few major economies have managed. And he keeps moving the goalposts — to make the plans more ambitious.
The social and economic changes outlined since 2015 already include selling a stake in oil giant Aramco and ending a longstanding ban on women driving cars. This week, Prince Mohammed announced the city project, and also said he'll transform the religious basis of Saudi society and make its austere version of Islam more "moderate."
The two goals overlapped in a promotional video for Neom released this week, which featured scenes inconceivable in existing Saudi cities. The virtual women of Neom go jogging in leotards in public spaces, work alongside men, and play in a musical ensemble.
Artificial intelligence and the Internet of Things will combine to offer a lifestyle not available anywhere else, Prince Mohammed said in the interview. "Your medical file will be connected with your home supply, with your car, linked to your family, linked to your other files," he said. "And the system develops itself in how to provide you with better things."
Prince Mohammed envisions an app-driven city that is almost entirely automated and responsive to the needs to its residents. "The first robot in Neom will be Neom itself," he said.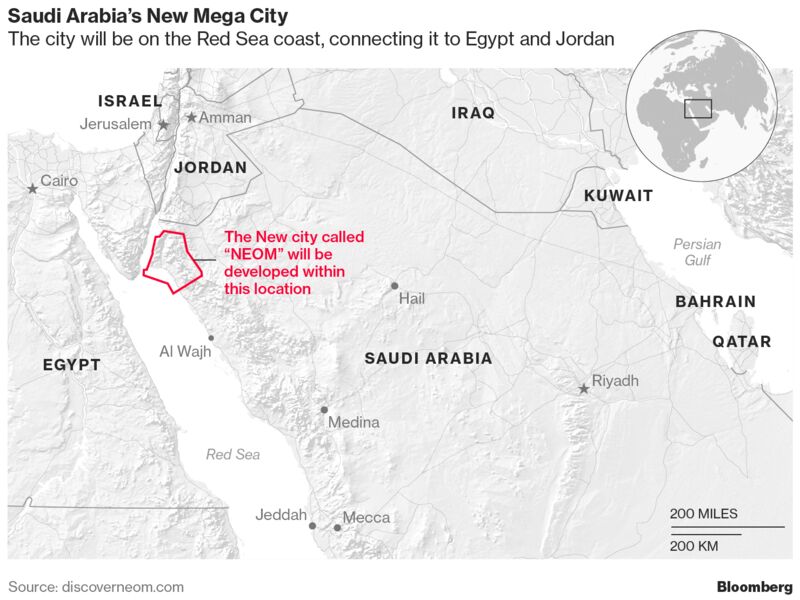 It's not the first time that Saudi Arabia has proposed to build new cities in the desert. The unveiling of Neom this week, at a Riyadh conference crammed with international financiers and policy makers, left some analysts pointing out that previous attempts didn't come to much.
---
Saudi Arabia backs OPEC cuts extension beyond March 2018 for market stability
---
"Is Saudi Arabia about to repeat past mistakes?" Capital Economics, a London-based consultancy, wrote in a note. The kingdom "has a patchy record when it comes to fulfilling megaprojects," it said.
Prince Mohammed acknowledged that some of those plans are doing better than critics have suggested. And he said his government is working to revive those that stalled — citing the King Abdullah Financial District in Riyadh. While few lenders have committed to the area, the first phase is due to be opened in 2018 and the district will host leaders from the G-20 group of major economies two years after that, he said.
With Neom, the government is putting its credibility and money on the line. The country's sovereign wealth fund and other investors are putting in "hundreds of billions," Prince Mohammed said. Tuesday's announcement said the project is backed by more than $500 billion of investments from the Saudi government, the Public Investment Fund, and local and international investors.
Agreements signed between Saudi Arabia and Egypt last year, including one to develop an industrial zone around the Sinai peninsula, were concluded with the new city in mind, he said.
"The purpose of signing this free zone north of Sinai is to link it with Neom," the prince said. "Neom will have a lot of ports. Some of them in Saudi Arabia and some of them in Egypt."
The Red Sea islands of Tiran and Sanafir also fall within the area. The islands were under Egyptian control until President Abdel-Fattah El-Sisi agreed to hand them back to Saudi Arabia, sparking protests and legal challenges that Egypt's parliament ultimately ignored.
Plans for the project include a bridge spanning the Red Sea, connecting the proposed new city to Egypt and the rest of Africa. Some 10,000 square miles (25,900 square kilometers) have been allocated for development of the urban area, which will stretch into Jordan as well as Egypt.
Asked if the city would compete with other regional commercial hubs such as Dubai, Prince Mohammed said the outcome will be more win-win than zero-sum. He said Neom will "create new demand" that will help its neighbors too. "I don't think Hong Kong harmed Singapore, or Singapore harmed Hong Kong."