Capital Markets
SEC unveils 46 commodity exchange warehouses across Nigeria
Adesola Afolabi was a businessamlive reporter and Head of Financial desk.
July 21, 20191.3K views0 comments
The Securities and Exchange Commission (SEC) has unveiled commodity exchange warehouses across 17 different states in the country.
The warehouses are 46 in number. Warehouses and storage infrastructure according to the SEC, are necessary for the commodity sector and commodities futures trading.
The move is in a bid to facilitate rapid growth of the commodity sector and ensure food security by curbing the rising spate of food accessibility, quality and affordability in the country.
The introduction of the warehouses across diverse regions of the country, will also help create sustainable wealth for farmers, sources familiar with the development told business a.m's correspondent.
The storage facilities made available by the Exchanges, encourages the growth of value across commodities being produced and prevents farmers of letting go of their hard cultivated products at giveaway prices, an expert said.
The warehouses are controlled by both the AFEX Nigeria commodities exchange and the Nigeria Commodity Exchange (NCX).
Location of Warehouses: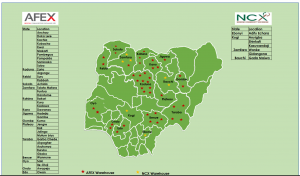 A breakdown of the location of these warehouses shows Kaduna leads with 11 different locations owned by AFEX, spanning from Anchau to Zaria.
Zamfara comes next with 7 warehouses split between the AFEX and the NCX. Some of the Zamfara located warehouses include Talata, Mafara, Funtua, Dandume and Bakori.
5 warehouses are located in Benue state, the food basket of the nation, 4 are located in Taraba while Kebbi, Sokoto, Ondo, Gombe, Bauchi states have 2 warehouses each.
Kano and Katsina account for 3 each while Jigawa, Ebonyi, Plateau, Oyo, Kogi, Edo have one warehouse located in each state.
"These storage facilities are critical to the entire agro commodities value chain for reduction in post-harvest losses, quality maintenance, year-round supply of commodity raw materials to end-users are an important building block for transparent transactions in commodity contracts," the SEC explained.
The commission subsequently noted that warehousing forms the basic platform of delivery based trading in commodity futures. It added that these warehouses are linked to the commodity exchanges registered by SEC Nigeria. The exchanges are open to farmers and owners of commodities who intend to trade their commodities on the exchange.