Frontpage
Signing of bill in UK: Nigerians attack Buhari
November 6, 2019834 views0 comments
By Moses Obajemu
President Muhammadu Buhari on Tuesday received some barbs from Nigerians for signing the Amended Deep Offshore and Inland Basin Production Sharing Bill while he is on a private visit to the United Kingdom.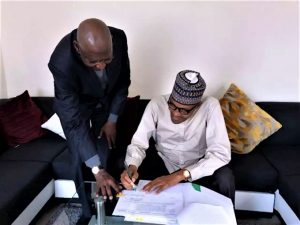 The President had jetted out of the country on October 28 in the first leg of the trip to Saudi Arabia, while the second leg as a private visit to London, started on November 2. He will be away from Nigeria till November 17.
Buhari signing the Deep Offshore (amendment) Bill in London, raised questions on whether Osinbajo could not have signed the new law back home in Nigeria.
Some organisations, including the Yoruba socio-political group, Afenifere, the Ohanaeze Ndigbo and the Transition Monitoring Group, in separate interviews with The PUNCH on Tuesday, said Buhari's action was an indication of impunity in his administration.
But the Presidency, in a swift response, said the President could perform his duties from any part of the world. It added that it was the duty of the National Assembly to say if the President had transmitted power to Vice-President Yemi Osinbajo.
Nigeria under one man's rule – Afenifere
Commenting on Buhari's action,  Afenifere said the fact that the President's Chief of Staff, Abba Kyari, travelled to London to present memos and bills to  Buhari showed that Osinbajo was practically out of Buhari's government.
The spokesman for Afenifere, Yinka Odumakin, said that the seeming demotion of Osinbajo was part of the next level strategy of Buhari.
Odumakin said, "There is evidence that Nigeria is now under one man's rule. You can see that the National Assembly is a rubber stamp while the judiciary has been cowed. The Vice-President is practically out and that is all part of the next level."
The Afenifere spokesman told Osinbajo not to be deceived by the words of the Emir of Daura, Alhaji Farouk Umar, who had last week commended the loyalty of the Vice-President to the President and described their relationship as unequalled in the history of the country.
"Those who think that the Emir of Daura passed a vote of confidence in Osinbajo should go find out the meaning of 'Taqiya.'".