Renewable
Solar-powered cool rooms making big difference, fighting waste in Africa
January 4, 20181.6K views0 comments
Food waste in Africa is a serious issue. Half of all the fruit and vegetables produced there are thrown away, even though millions of people across the continent are going hungry.
Intermittent power supplies and poor storage facilities mean that staple foods – among them cereals, roots, and tubers – are too often lost after being harvested and before they arrive at the market.
According to the UN, if food wasted in Africa was saved instead, it could feed about 300 million people.
Entrepreneur Nnaemeka Ikegwuonu, 35, is hoping his innovation will address the problem in his country, Nigeria.
Food waste there is estimated to cost about $750bn (£561bn) per year. Ikegwuonu, whose family are farmers in rural Imo state in the country's south-east, has devoted most of his life to making sense of Nigeria's agricultural follies. At the age of 21, he established a smallholders foundation to help farmers improve their yields; later he developed a state-wide radio farming programme that gives advice on topics including microcredit, hybrid seeds and HIV and Aids.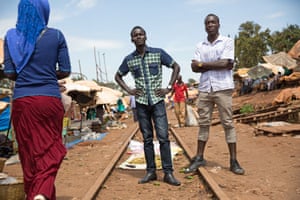 Now he has turned his attention to mobile, solar-powered storage facilities. "Nigeria is a very large country, with 90 million smallholder farmers who do not have access to any form of cold storage," says Ikegwuonu. "We are home to the largest tomato production belt in West Africa, yet farmers are losing more than 50% of their crops due to lack of cold storage. So we came up with solar-powered, walk-in cold rooms which can extend the life of food up to 21 days, and my goal is to push these hubs to all developing countries."
Ikegwuonu's ColdHubs are now dotted across the country, in various farms and markets. Solar panels, mounted on the roof, feed high-capacity batteries – these feed the refrigerating unit, which is made of 120mm insulating panels. The entire unit uses about 1kW of energy, and farmers pay a flat daily fee for each crate of food they store. Ikegwuonu estimates that farmers reduce their losses by 80% using ColdHubs, primarily because they have more stock to sell.
Despite requests from interested parties from across the world – including the US – Ikegwuonu is keen to focus on setting up ColdHubs in as many developing countries as possible. He aims to scale up production to 20,000 units over the next decade. As ColdHubs have been designed for all-weather conditions – it was co-engineered by researchers from the German Society of Refrigeration and Air Conditioning – units can run for three days without any sunlight, increasing its potential for use anywhere in the world.
"One of our hubs is in a large fish market here in Nigeria …[it means that] more than 300 women will have access to cold storage. And another hub is going to be located in Tanzania next year as a special hub for a refugee market," says Ikegwuonu. "The goal is to eliminate all previous losses in fruit and veg, increase the income of the farmers, retailers, and wholesalers, and create employment for women, as we hire women to work in the hubs themselves."
In Uganda, meanwhile, engineering graduate Lawrence Okettayot, 23, is seeking to address food waste in this country.
Uganda hosts more refugees than any other nation in Africa. Although food production is higher than consumption, malnutrition is rife. One in three school children doesn't have enough food to eat during the day, according to the World Food Programme.
Okettayot's farming family has suffered from heavy economic losses due to food waste over the past few decades, and his solution comes in the form of dehydration rather than cold storage.
The Sparky Dryer, as he and his colleagues call it, runs on biofuel from a farmer's garden, which burns with zero-carbon emissions to dehydrate the farmer's chosen produce, be it mangoes, guavas, pineapples or even cereals such as maize and sorghum.
Pumpkin and tomato are left to dehydrate in the Sparky Dryer. Photograph: James Oatway/Royal Academy for Engineering
The dryers, at prices that start at $80, can dehydrate 10kg of mango in two hours, running on just 2kg of biofuel. "Because in Uganda 80% of the population don't have access to electricity, they can put anything from their garden, like leaves, sticks, anything that is not of use at the minute, and the catalytic converter converts the toxins into good gases so the gasification process has zero carbon-dioxide emissions," says Okettayot.
He and his team take orders from farmers who tell them what they want to use the dryer for, which the team then price up. One client, Okettayot says, used it to dry her pumpkins, which she ground into powder that could be used as a base for multiple recipes. "She made a lot of food out of it."
---
Courtesy theguardian.com