Energy
Frontpage
Tinubu's petrol subsidy removal hits neighbouring countries' illegal gasoline market
June 9, 20232.3K views0 comments
BY BEN EGUZOZIE
President Bola Tinubu's recent premium motor spirit (PMS) subsidy removal in Nigeria has hit the country's neighbours —Cameroon's and Benin Republic's and other countries' illegal gasoline market powered mainly by the product smuggled through Nigeria's porous land and sea borders, a report monitored and translated by our correspondent from the countries' French speaking media.
Nigeria's porous land borders have enabled the smuggling of oil into other African countries, even after the borders were closed in August 2019 by outgone president Muhammadu Buhari.
In Benin Republic and Niger Republic, prices of petroleum products, especially PMS, have more than doubled – a development linked to the removal of fuel subsidies in Nigeria. Citing sources, the BBC reported that prices of petroleum products are being sold for 700 CFA or 800 CFA in the Benin Republic — nearly double the previous price of 450 CFA.
The removal of fuel subsidies was announced by President Tinubu on May 30, during his inaugural speech. The development lends credence to reports that a significant volume of Nigeria's subsidized petroleum products were being smuggled into other African countries.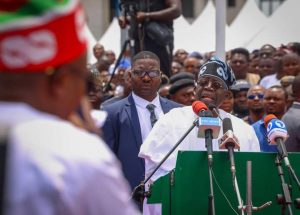 Petrol from Nigeria has been regularly smuggled into neighbouring countries including Cameroon, Ghana, Benin Republic, and as far as Sudan – a north African country, report by Tekedia said.
According to one of the French language media reports in Benin Republic, the announcement of the end of subsidies on gasoline, has (not only) provoked the anger of fellow citizens (in Nigeria), but also of Beninois.
"The vast majority of Beninois vehicles are powered by illegal gasoline," said the media report in Cotonou, Benin Republic's capital.
The kpayo more expensive than the pump
"An extremely unpopular measure which is already having repercussions in Benin, neighbouring Nigeria. Over here, it is not the price at the pump that has increased but that of "kpayo" as smuggled gasoline coming from Nigeria, is called," the report translated from French, said.
In the West African neighbouring country, with an underdeveloped economy largely dependent on subsistence agriculture and cotton, Benin's economy is still reliant on formal and informal reexport and transit trade with Nigeria.
 The price of Nigeria's smuggled fuel on the country's market already exceeds the price of its gasoline at the pump. You have to have up to 700 to 800 CFA francs for "kpayo", while gasoline officially is 650 CFA francs at the pump.
Ernest Gbaguidi, the president of Benin Health, an association for the defence of consumers, said since President Tinubu's announcement and the increase in fuel prices in Nigeria, he has been worried.
"The price on the market already exceeds the price at the pump," said Gbaguidi. Because this increase has repercussions on illicit trade: the rise in prices at one of the main oil producers on the continent also affects the smuggling sector and the black market on which Beninois dealers are supplied, he noted.
The weakened smuggling sector
And at the end of the chain, there is the consumer – knowing that almost all national demand is currently covered by adulterated gasoline. "It's a very worrying situation," continues Ernest Gbaguidi.
"If Nigeria does not revise its policy, consumers will have no choice but to fall back on petrol stations in Benin. Now it is those who live in areas where there are not yet enough service stations that will really suffer," he lamented.
According to the Benin media, consumers who have the possibility of taking gasoline at the pump, the choice is — for the moment — quickly made: not only is it cheaper but it is also reputed to be of better quality, less dangerous, less polluting.
Dissatisfaction on the seller's side
Benin's sellers of "kpayo", Nigerian smuggled gasoline, say they are quite unhappy, according to their spokesperson. "We understand that the coming to power of Bola Tinubu displeases the sellers of kpayo. All the Beninois sellers are unhappy, and they regret that the Nigerians chose him!" explains Henri Assogba, spokesperson of kpayo sellers.
He said, "We have no problem with our government! Since the arrival of President Patrice Talon, we have never seen a fight against gasoline sellers as previous governments did. Well, we can't expect anything from the authorities because we are carrying out an illicit activity! We pray to God that our authorities will create jobs so that many people will find another job," Assogba said.
 For the Beninois authorities, who have been trying for a long time to curb the phenomenon of smuggling, the rise in prices of Nigerian smuggled gasoline could also be an opportunity to seize, explains Jeannine Ella Abatan, researcher at the Benin's Institut d'Études Sécuritaire (Institute for Security Studies, ISS).
"This opportunity can only be served if the service stations are able to meet demand, and if the Beninois authorities manage to find serious alternatives to ensure demand throughout Beninois territory, but also to offer alternatives for the actors who live off this smuggling," Abatan said.
In Garoua, Cameroon's northern region, operators of commercial motorcycles protested the rise in the price of zua zua, the name given to Nigerian smuggled fuel. Many of them who spoke in Fulfulde and smattery French said they were not happy that the price of their easily gotten gasoline has gone up astronomically. According to them, it will kill their commercial motorcycle transport business.
Many parts of Benin and Cameroon, especially towns outside the regional capitals are largely underserved or not served at all by each country's fuel servicing stations. All of them depend on the booming Nigerian PMS smuggling ring.
A report by DW noted that vendors in Cameroon make huge profits from illegal sales of fuel smuggled from Nigeria. According to the report, commuters in the West African country prefer not to buy from petrol stations as it's cheaper to buy from illegal vendors who sourced the products from Nigeria.
"Even when Nigerians are faced with fuel shortage, supply is constant in Cameroon," the report said. "Cameroon produces its own fuel, but selling Nigerian petrol is far cheaper here."
In Cameroon, fuel from Nigeria sells for 350 CFA while fuel from Cameroon sells for 650 CFA in petrol stations.
The coming weeks will tell what scenarios can be envisaged in both neighbouring countries —Benin, Cameroon and Nigeria. So far, Abuja's previous attempts to remove subsidies have been met with such public anger that they have eventually had to be abandoned.