Business a.m. Unwrap
What I should know about my consumption of Bottled water?
January 6, 20204K views0 comments
There are numerous companies that produce bottled water in Nigeria. Many water treatment experts recommend consumers drink bottled water that have gone through advanced treatment technologies like micro-filtration, and also patronize brands that clearly disclose information on the source of their water, how and whether it is treated, and have data on their water purity testing results. These are particularly important since filtered tap water which is often considered to be even safer than bottled water, is regularly tasted through filtering and consumers can easily find such information about it from several sources, including the internet.
It is common practice for many bottled water companies in the country, especially among small and medium table water companies, to conceal these type of information from consumers. However, it should be noted that bottled water is a food product, and as such practices like these are somewhat inimical to consumers.
While many common brands produce only 50cl and 75cl bottled water sizes, with only a few of them producing the 150cl (or 1.5l) size equivalents; this report focuses on the 150cl (or 1.5l) size and provides consumers with information on the suitable and available products in this size category existing in the market.
Ragolis Spring Water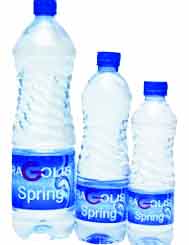 Manufactured by Ragolis Waters Limited
In addition to having the 150cl size, there are also 50cl, 75cl and the refillable dispenser water.
The 150cl bottle typically sells at N150 per bottle, and N1,150 per pack.
It was one of the leading brands of bottled water in the country years back, but have since lost this position to newer players.
Ragolis Spring Water is rebranded, and now has a new product design and logo.
Many customers claim not be aware of Ragolis Spring Water still being in existence.
In many markets and bottled water dealer stores the product seems to be unavailable, suffice to say that the manufacturers need to do more in marketing the products.
Ragolis Spring Water deals in the packaging of natural spring water. Ideally Spring Water should be from underground rocks, where natural water flows to the earth's surface.
A water treatment expert suggested that spring water usually had a characteristic no taste feel, and that he highly doubts if any manufacturer in the country who claim to package spring water actually source their water from springs.
Gossy Natural Spring Water
Manufactured by Warm Spring Waters Nigeria Limited.
It is available in many shops, stores and markets across the country which can be attributed to UAC Nigeria huge distribution network, one of its parent companies.
The 150cl size is packaged in transparent PET bottles, and there are also the 50cl and 75cl sizes.
A pack of 6 ×150cl size sells at N1,150 in many retail shops.
The manufacturers claim that the water is made without chemical treatment or additives to enhance its quality, and from the aquifer of the Ikogosi Natural Springs in Ikogosi, Ekiti State.
Many consumers however believe that the water has a good appearance, only that the the PET bottle material is inferior and quite fragile, tending to loose its conformity and get squeezed easily.
Nestlé Pure Life Premium water
Manufactured by Nestlé Nigeria Plc.
It is one of the leading bottled water brand in the country.
Unlike many brands, in addition to 150cl size, Nestlé pure life water has 60cl size.
The product is marked as a premium drinking water.
Nestlé Pure Life water can be found in many wholesale stores and retail shops.
The 150cl size sells at N1,150 for a pack, and N150 for a bottle.
Consumers believe that the water has a good appearance and taste, only that the PET bottle material is quite fragile, and can easily loose its conformity when compressed or squeezed.
Eva Premium Table water
Manufactured by Coca-cola Nigeria.
The brand has caved a niche for itself and is one of the leading brands in the market.
Many dealers believe that other carbonated soft drinks its manufacturers deal in such as Coca-cola, Fanta, Sprite etc. has helped its image and acceptability among consumers.
It can be easily found in shops and stores all around, and it appeals to the upper class and high income earners.
Eva Bottle water brand according to its manufacturers is processed water, subjected to filtering and purification treatments before being bottled.
In addition to the 1.5l PET bottle, Eva water is available in 50cl and 75cl
The 1.5l size sells at N1,250 per carton, the most expensive of them all.
Consumers particularly prefer it because of its size and volume, and in reality it appears to be bigger than many of the competing brands.
The drawback with the product for most consumers is its bluish bottle appearance, which many complained do not let them easily ascertain the purity of the water.
Aquafina Bottled Drinking Water.
Manufactured by 7up Bottling Company, Nigeria.
Its 1.5l size sells at N1,150 for a pack, and N150 per bottle.
Like other brands, Aquafina water also have smaller variants.
The product is marked as a premium drinking water, and is mostly patronized by upper class people.
It is a competitive product in the bottled water industry, leveraging on the popularity of 7up and Pepsi.
It is available in some stores, but not as popular as many bottled water brands in the same size category.
It has one of best appearance and packaging, according to a few consumers.