Our research into why people consume coffee revealed benefits ranging from relieving fatigue to increasing mental alertness, amongst many health explanations. There are some persons that said they drink coffee due to its caffeine content. However it is important to note that there is also decaffeinated coffee, usually made by rinsing coffee beans with chemical solvents which dissolves the caffeine, and so contains much less caffeine than the regular coffee. In Nigeria the household coffee brand is undoubtedly Nescafé, which seems to have dominated the coffee market heavily, although in the past few years, there have been new entrants in this market. It is important to note that there are a few coffee brands in the country that operate a business to consumer model (B2C), and may not be found in other shops and supermarkets, being exclusive only in the parent dealer stores/cafés. This report focuses on the brands generally available in the 150g-250g size range, and provides you with facts about each.
Nescafé classic coffee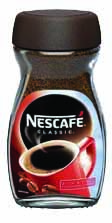 Manufactured by Nestlé.
Nescafe has a range of variants, including decaffeinated brands.
Some of its other variants are Nescafé gold decaff, Nescafe ricoffy and Nescafe gold cappuccino.
Nescafe classic coffee 200g size is sold at N2,500 in many supermarkets and stores.
It is packaged in glass tampered sealed bottles which is ideal, while the 50g size is packed in a tin.
The brand is well known and dominates over 65% of the market share for coffee in Nigeria.
Its production to expiration period is two years.
It is pure coffee, and has a good taste according to many consumers.
This brand is good for not increasing cholesterol and blood fat levels, like many unfiltered types.
It appears to be dark roasted, and roasting coffee darkly is known to destroy some of the healthiness in coffee bean.
Kaldi African coffee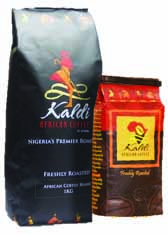 Manufactured by Kaldi African Limited.
The manufacturers claim it is made of Nigerian coffee blended with wet processed Ethiopian beans.
Consumers mentioned that it has a chocolaty taste, and nice flavouring.
Its appearance is unique, likewise the products' packaging.
The doypack which is used in this product is a good type of package for coffee, being extra convenient.
The 250g size sells for N3,000. There is also the 1kg variant.
It is only available in a few malls and dealer outlets.
The product has smooth powder, and blends fine in beverage drink.
A consumer who frequently buys the product at a mall mentioned that he observed nausea and slight headaches, when he just started consuming the product.
Star Café Instantane
Manufactured by Tata coffee limited.
A few consumers appraised the brand for having a rich taste.
This product dissolves instantly in water (highly soluble).
It has the characteristic aroma of strong coffee.
Star Café Instantane appears to have soft granules which gives a fine thickness when dissolved.
The product is packed in tin-coated material – the best for preserving the freshness of coffee.
The product's 200g variant is being sold at a good price, N1,800 in many supermarkets.
Consumers observed insomnia and nausea with consuming this brand.
There are speculations about the coffee being organic, with many consumers suggesting otherwise.
Frisco coffee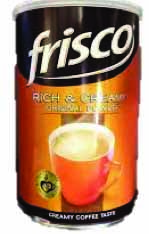 Manufactured by Entyce beverages in South Africa.
It has a rich and creamy taste.
Unlike the other coffee brands, in addition to coffee beans it is blended with chicory root.
Chicory is appropriate for people looking to reduce caffeine in their diet.
Improved digestion and decreased blood sugar levels are some of the benefits of chicory.
It also contains glucose, which makes it somewhat sweet.
Many consumers say the product is appropriate for young ones and healthy adults, and not for the elderly.
The 250g size sells at N1,800 in wholesale stores.
The production to expiration period is marked as 3 years, but a customer who purchased the product in the past refuted this as true.
Caffetteria Mokate coffee
Manufactured in Europe.
It has a very unique taste.
Its production to expiration period is 2 years.
Caffetteria Mokate coffee is packaged in glass tampered sealed bottles which is ideal.
Contains caffeine and is rich in antioxidants, it is an organic brand.
The 150g net weight size is sold at N2,600, which is the most expensive of all.
It is quite scarce to find in retail stores and supermarkets.
Dealers explained that the product is highly recommended as a strong coffee brand.
Consumers observed that the coffee granules are not so smooth, which makes it less easy to dissolve or mix.
According to Euromonitor prediction, Nigerians will drink more than 1,000 tons of coffee in 2020, which is 23% higher than the amount consumed last year. The growing new culture around coffee consumption and urbanization being major influences in this regard. Current consumer behavior indicators show that even though price and taste factors are important, they are alone insufficient in picking out the best brands of coffee to buy. The quality of the coffee itself, and the use of pesticides and other chemicals are also being considered. Cafeteria Mokate coffee meets these criteria, only costing more, N2,600 for a relatively small grammage of 150g. Nescafé classic coffee and Star Café instantane both have strong coffee taste and good enough quality. Kaldi African coffee is nutritionally organic and home-grown, while Frisco coffee have additional benefits of chicory for those looking to reduce caffeine in their diet.