Manufacturing
12,000 jobs for Northern Nigeria in BUA's $500m industrialisation project
June 12, 2023858 views0 comments
By Ben Eguzozie
Scheme to transform region's underserved population
No fewer than 12,000 new jobs are coming in Northern Nigeria, perhaps the biggest in more than two decades, as BUA, Africa's leading manufacturing, mining, foods, and infrastructure conglomerate begins its two new energy-efficient cement production lines in the region worth $500 million.
 The plants will be funded via a $500 million largest-ever investment in northern Nigeria to boost industrialisation and create jobs in there and the Sahel by the International Finance Corporation (IFC), a member of the World Bank Group —the largest global development institution focused on the private sector in emerging markets, and its partners —African Development Bank (AfDB), African Finance Corporation (AFC), and German Investment Corporation, Deutsche Investitions-und Entwicklungsgesellschaft (DEG).
 The new cement plants will assist to drive down poverty in northern Nigeria — a region ranked for years as the poorest amongst Nigeria's 133 million multidimensionally poor population. The Nigerian data agency, National Bureau of Statistics (NBS) said in 2022 that 65 percent of Nigeria's poor (86 million people) live in the north.
Some development analysts told Business A.M. that the new investment scheme will transform the northern region's largely underserved poor population.
The IFC's $500 million financing package includes a $160.5 million loan from its own account, a $94.5 million loan through the managed co-lending portfolio programme (MCPP), and $245 million in parallel loans from syndication partners; the African Development Bank (AfDB) – $100 million, the Africa Finance Corporation (AFC) – $100 million, and the German Investment Corporation, Deutsche Investitions- und Entwicklungsgesellschaft (DEG) – $45 million. 
The financing, announced during the Africa CEO Forum in Abidjan, Côte d'Ivoire, will allow BUA, Nigeria's second largest cement producer after Dangote, to develop new production lines in Sokoto State. The plants will run partly on alternative fuels derived from waste and solar power. Each will produce about three million tonnes of cement annually when complete, serving markets in Nigeria, Niger, and Burkina Faso.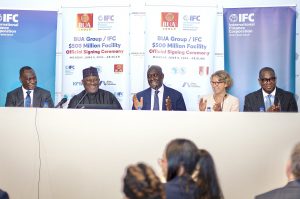 IFC says investing in northern Nigeria is integral to its strategy to promote sustainable development in underserved regions. This includes areas with limited opportunities and a need for increased private sector engagement.
The new cement plants will provide local developers with a reliable and affordable source of cement, and bolster the construction of essential infrastructure, fostering economic growth and prosperity for the region.
The project is expected to create about 1,000 direct jobs and 10,800 indirect jobs. Direct jobs include those in manufacturing, engineering, and advanced automation systems. Indirect jobs include those in the cleaning, maintenance, mining, and transportation sectors. 
Abdul Samad Rabiu, chairman and founder of BUA Group, said the conglomerate is delighted to partner with IFC and other institutions in securing the $500 million facility to develop energy-efficient cement production capacity and strengthen their equipment and logistics capabilities in northern Nigeria.
"In line with our commitment to sustainability and ESG principles, this investment will create jobs and contribute to economic and infrastructural development within Nigeria and the greater Sahel region. We are particularly pleased to have successfully gone through the rigorous process with IFC, AfDB, AFC, and DEG, which validates our responsible business practices. By focusing on greener fuels and enhancing our equipment and logistics platform, BUA Cement is building a foundation for sustainable infrastructure growth and a more inclusive society," Samad Rabiu said.
Makhtar Diop, IFC's managing director, said the development finance institution was pleased to join with partners to support BUA with an investment that will boost industrialization, create jobs and deliver economic growth in northern Nigeria, a region with significant economic potential. 
The financing package announced by IFC and its partners will also allow BUA to replace some of its diesel trucks with vehicles that are run partly on natural gas, over time producing fewer emissions. As part of the project, IFC will also advise BUA on developing a gender inclusive workplace strategy that creates more opportunities for women across its operations.
Samaila Zubairu, chief executive officer and president of Africa Finance Corporation (AFC), said following an initial $200 million investment in BUA Group in 2021, AFC is proud to play another key role in this landmark manufacturing project set to transform the construction sector in northern Nigeria and the entire country.
"By investing in this project, we are sustainably building Nigeria's local manufacturing capacity, empowering local communities and creating employment opportunities. AFC is committed to working with our partners to accelerate development impact through infrastructure solutions that support value addition, industrialization, and job creation throughout Africa," Zubairu said.
Solomon Quaynor, vice president, private sector, infrastructure and industrialization of African Development Bank (AfDB), said the bank is "pleased to partner with IFC and BUA on the expansion project as it is aligned with our priority strategies of industrialising Africa and improving the quality of lives of Africans through the increase in cement production which will lead to the development of additional affordable housing and critical infrastructure in Nigeria and neighbouring West African countries, while supporting the use of cleaner energy at BUA's Sokoto facility".
Gunnar Stork, senior director at DEG, said "DEG's mission is to be a reliable partner to private sector enterprises as drivers of development and creators of qualified jobs. We are pleased to contribute to this transaction together with our development finance partner institutions. Together we support BUA in its transformation towards a more sustainable production by implementing innovative technology. The significant reduction of CO2 emissions and the creation of decent jobs in a region with many vulnerable households are key factors for DEG's financing."
The investment in BUA is part of IFC's strategy to promote diversified, inclusive growth and job creation in Nigeria, where IFC supports the manufacturing, agribusiness, healthcare, infrastructure, technology, and financial services sectors. IFC has an active investment portfolio of $2.3 billion in Nigeria.