Frontpage
Oil and Gas
$2bn spent on power generators in Nigeria in 20 years, says UN
February 1, 2021543 views0 comments
By Tobias Pius
In a 24-year timeframe Nigeria spent over $2.4 billion on importation of power generating sets, data from the United Nations International Trade Statistics Database, UN Comtrade, has shown.
The data from UN Comtrade, the largest depository of international trade statistics, covered the period 1996 and 2019.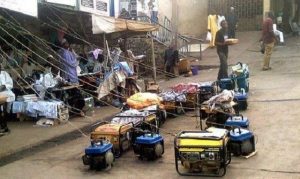 Emissions from electric generators have led to major health and environmental hazards in Nigeria, yet the country still pumps in huge foreign exchange on importation of supplementary power sources.
In 2013 generator importation soared to $262.5 million, recording the most in two decades since 1996, a deep reality due to the fact that the average cumulative power supply received daily by Nigerian households between 2013 and 2015 was below 6 hours per day, according to a survey by NOI Polls.
The World Bank group has estimated that Nigeria spends three times as much on back-up generator power as compared to the grid, reasons being that the average operational capacity of power infrastructure in the country is estimated at an appalling 3,879MW, and this poor power supply in the country has prompted Nigerians to seek alternative power sources.
Nigeria stands among the top six countries generating energy by back-up generators, alongside India, Pakistan,Iraq, Bangladesh, and Venezuela. These countries represent over 50 percent of the electricity generated (and fuel burned) by back-up generators in the 167 countries modeled by International Finance Corporation, (IFC).
Despite the huge amount spent on alternative energy, these generators pose a significant detriment to health and the environmental as exhaust from generator contributes immensely to the emissions of fine particulate matter (PM2.5), sulfur dioxide (SO2), nitrous oxides (NOx), carbon dioxide (CO2) and other pollutants that harmhuman health and contribute to climate change.
An IFC conducted research shows that CO2 emitted from generators in sub-Saharan Africa is equivalent to about 20 percent of the total emissions from vehicles—the environmental equal to adding about 22 million passenger vehicles onto the road.
Also, reports associate excess noise from these power sources with health challenges, such as high blood pressure and hearing loss, as assessment in Nigeria from 2013-2015 showed noise levels of most common generators exceeded WHO limits—greater than 90db, it further stated.
"Nitrogen Oxides (NOx)emissions are associated with combustion, usually from burning of fossil fuel in vehicles or for energy generation.
"Exposure to NOx has been associated with increased risk of numerous respiratory illnesses. NOx can also form other pollutants that impact health (i.e. ozone, particles) and the environment (i.e. particles, acid rain).
Our results suggest that generators account for 5 percent of NOx emissions across all modelled countries and 15 percent in Sub-Saharan Africa."