By Sade Williams & Business a.m.
7Star Airlines has entered the Nigerian niche helicopter flight services market following the granting of an air operator certificate (AOC) to it by the Nigerian Civil Aviation Authority (NCAA) last Thursday in Abuja, capital of Nigeria.
The AOC is a clearance from the authorities for the airlines to commence flight operations after it had gone through a rigorous checks by the authority.
The presentation of the operational specifications (OpSpec) and AOC took place at the NCAA's headquarters in Abuja.
Kayode Ajiboye, director, airworthiness and standards, NCAA, who represented the director general, presented the certificate to the 7Star team led by Daniel Richard, its chairman, and congratulated the new entrant for successfully completing the five phase process.
He praised 7Star for the display of professionalism and discipline in the course of the stringent exercise.
Ajiboye enjoined the new operator to remain exemplary by imbibing the culture of safety as their core value. This, the DAWS said, is better observed by always keeping eyes on the ball.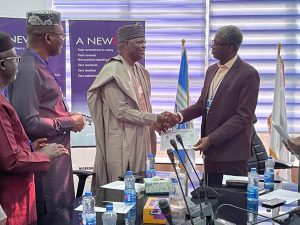 In his response, deputy managing director, retired air commodore Simon, expressed satisfaction at getting the AOC which, according to him, is a milestone in the airline's bid towards commencement of helicopter service operations.
He promised to ensure that safety comes first in all of 7Star's operations. He further commended the NCAA for the approval and assured that professionalism will be strictly adhered to.
Simon assured that 7Star will not rest on its laurels by ensuring strict adherence to safety standards and global best practices in its operations.
He dedicated the certificate to the entire management, staff and partners of 7star for their hard work and support all through.
Notable mention was NHV Group, a Belgian aviation firm with core strength in B-to-B Helicopter services.
With over 25 years in operations and about 50 operational helicopters across three continents, NHV and 7star are expected to take aviation operations to the next level, they said.
Daniel Richard, chairman of 7Star Airlines, in celebrating the feat assured Nigerians that the same way 7Star hangar, a sister company to the new 7Star Airlines, did not let Nigerians and aviation community down by meeting up with global standards, is the same way the airline will follow suit.
He added that beyond the helicopter operations, 7star will soon launch her fixed wing operations to give affordable and premium aviation jet/prop services to her clients across Africa.
7Star Airlines has a management staff with over 300 years of experience put together and with this, 7Star is ready to contribute its quota to the aviation industry by delivering the best safety and premium service to Africa.
7Star presently has helicopters to be deployed for businesses especially servicing international oil companies and other VIP movements across Africa.