Commodities
Companies
Agritech firm, Isidore launches Jinja Apps to boost agric. sector
April 27, 2023221 views0 comments
By Olivia Nnorom
Isidore Agritech Limited has announced the launch of Jinja Apps, an agric platform that  connects buyers and sellers of agro commodities, extension services, and financing, by leveraging advanced technology.
The new Jinja Apps is also designed to contribute significantly to the barest reduction in the 50 per cent Post-Harvest Losses (PHLs) in the country that is currently threatening attainment of the food system.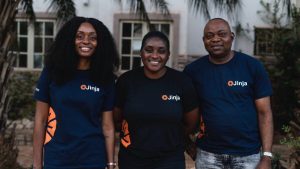 According to the agritech firm, The apps offer convenient and efficient solutions for the agriculture industry in Nigeria, such that farmers and aggregators can effortlessly connect with the market by dialing *347 *465 # to sell their commodities, access extension services, purchase input seeds, and obtain insurance coverage.
In addition, the Jinja Marketplace app provides agro-businesses with a user-friendly platform to compare and purchase high-quality agro commodities from multiple sellers in Nigeria.
Speaking at the virtual launch of Jinja Apps recently  in Lagos, Pamela Adie, vice-president, of business development, noted that Jinja is enabling access to a grid value chain more conveniently.
"Jinja is more than just a digital marketplace. One of our goals is to reduce wastage by making sure that farmers and aggregators have access to a wider pool of buyers in an instant, and that agro businesses can see, compare prices, and buy high-quality commodities in bulk without having to go to the farms or markets," she said,
According to Adie, the company wants to improve the quality of life of their farmers and aggregators, so they can buy insurance, get access to financing, and earn a share of our profits on every single transaction.
Also speaking, Valentine Eke, the product manager at Isidore, elaborated that Jinja features a user-friendly interface that allows farmers, aggregators, and businesses to easily navigate and meet their agric needs.
Eke said Isidore is a social enterprise that is using technology to transform the way agriculture is practiced in Nigeria, with the mission to enable high-quality food production and security by building innovative solutions that empower farmers and agribusinesses to build a nation that can feed itself.