Frontpage
Ahead NBS data, headline inflation seen dipping to 15.88% in November
December 14, 20171.7K views0 comments
Ahead the release of November inflation numbers on December 19, 2017, by the National Bureau of Statistics (NBS), analysts at Financial Derivative Company, a Lagos-based research and data company, have forecast that headline inflation will decline for the 10th consecutive month to 15.88 percent in the month of November.
In their FDC Monthly Economic Update released Wednesday, the analysts said they believe the November inflation figures would be the lowest in 2017as inflation flattens out.
They, however, see month-on-month inflation marginally increasing to 0.77 percent (9.60% annualized) from 0.76 percent (9.54% annualized) in October.
"This decline in headline inflation is mainly driven by waning base year effects, as well as a decrease in global commodity food prices such as wheat flour and sugar," they noted.
They pointed out that a stable exchange rate over the last two months has seen the naira strengthen to N363/$, which has encouraged producers to finally pass through the benefit of cheaper imports to consumers.
In addition, they noted that manufacturers have reduced production levels in anticipation of the decline in demand in January 2018, which according to them is evident in the sharp drop in CBN's PMI for November to 60.1 from 64.8 in October.
"This tapered inflationary pressures during the month," they opined.
Conversely, the FDC analysts expect core inflation, which is inflation less seasonality, to inch up for the second consecutive month to 12.18 percent from 12.14 percent in October, partly due to challenges in logistics especially as diesel prices had remained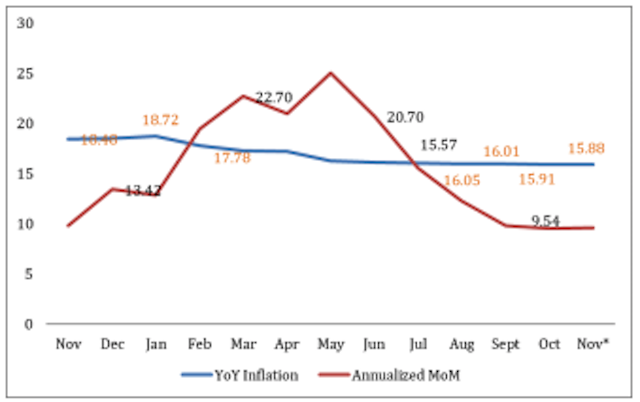 high despite easing to N200/litre from N205/litre in October.
The volatility in the supply of diesel has made diesel prices sticky downwards.
The food sub-index is seen reaping from an abundant output.
"Food index is likely to taper to 20.26 percent from 20.31 percent in October, with month-on-month food inflation also declining to 0.84% (10.58% annualized) from 0.85% (10.63% annualized).
"This is mainly driven by significant government's intervention in the agriculture sector, such as the commercial agriculture credit scheme (CACS), which has so far released over N500bn to boost economic activities in the sector," they said.
On the continent, they said with the exception of Angola, most countries in sub-Saharan Africa (SSA) recorded declines in headline inflation even with a cut in interest rates during the year.
The decline in price level was driven mainly by the improvements in domestic food yields and a decrease in global commodity food prices. Transport and maintenance costs remain key concerns for most of SSA owing to the increase in prices of crude oil and refined petroleum products. This has negatively impacted both logistics and utility costs in these countries.
The FDC inflation outlook for December is flat. The analysts expect a flattening out in inflation numbers for December despite the general assumptions for prices tend to spike during the festive period as a result of rising demand for goods and services.
"However, tepid recovery from the recession and the fragility of the economy will affect consumer expectations and demand. Hence, we expect a flattening out in inflation numbers for December," they stressed, adding that year to date, (January-October), inflation in Nigeria has averaged 16.73 percent.
They equally observed that the CBN's move to reduce the cash reserve requirement (CRR) for SME-focused banks is an indication that a reduction in interest rates is imminent.
"This is positive for lending activities of banks to SMEs. The availability of additional funds in the SME segment will boost manufacturing and output.
"We expect the government's intervention programmes, pre-election spending, and a possible wage review to exert inflationary pressures on headline inflation in the first quarter of 2018," they noted, adding that the impact of the increase in demand will be matched with transitory output and not an increase in productivity.
"The general consensus is for inflation to trend lower in 2018. Our projection is that it will ease to 14 percent by yearend 2018. This will be driven by increased productivity and output which will offset inflationary pressures from: a likely currency adjustment, pre-election spending, increased money supply, and efforts by the authorities to rein in the subsidy bill.
"The fiscal authorities are a little more ambitious in their projections with a 12% inflation forecast for 2018. The CBN governor on the other hand, in a press conference after the Monetary Policy Committee meeting in November, said the committee was optimistic of achieving its forecast of single-digit inflation by 2018," they highlighted.