Commodities
Aluminium trades lower as China price curb persists
June 24, 2021376 views0 comments
Aluminium cash (bid) and official settlement prices settled lower this week by $130 per tonne on the London Metal Exchange (LME) as social inventories of primary aluminium  including Shanghai Future Exchange (ShFE) warrants plunged across eight areas in China, world's largest consumer of the nonferrous metal.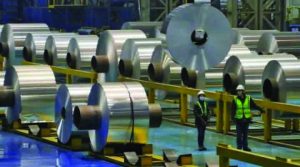 The prices started the week on Monday, June 14, at $ 2,504 per tonne, rising by $14 per tonne from the previous day. LME aluminium cash  price and LME official settlement price however decreased to $2,458.50 per tonne on Tuesday,June 15. They further declined on Wednesday, to stand at $2,454.50 per tonne and to $2,427.50 per tonne on Thursday, June 17. LME aluminium cash (bid) price and LME official settlement price closed the week even lower on Friday, June 18, at $2,374 per tonne.
Dec 22 bid price and Dec 22 offer price ranged between $2,456.50 per tonne and $ 2,374.50 per tonne during June 14-18. LME aluminium opening stock also dropped from 1652850 tonnes on Monday to 1621325 tonnes on Friday.
ShFE Aluminium Price Trend
The Shanghai Futures Exchange was closed on Monday, June 14 as China celebrated the Dragon Boat Festival. Benchmark aluminium price for the week started on Tuesday at $2,976 per tonne. On Wednesday, the price fell to $2,945 per tonne and further declined on tThursday to $ 2,427.50 per tonne. SHFE aluminium price closed the week on Friday at $2,867 per tonne, down $109 per tonne through the week.
The plunge in aluminum prices, according to market watchers, was largely a result of new rules by Chinese authority to ensure that price indexes of major commodities and services more accurately reflect actual market conditions, in a move to curb speculation in the volatile market.
Other base metals suffered similar fate as lead shed 1.49 per cent to $2145 per tonne, tin lost 3.58 per cent to settle at $30134, zinc was down 3.23 per cent to $2,886.50.