BY ONOME AMUGE & CYNTHIA EZEKWE 
Insurance key in reforming weak economy  
The presidential candidates of the political parties, particularly the leading four, Peter Obi of the Labour Party (LP), Bola Tinubu of the All Progressives Congress (APC), Abubakar Atiku of the Peoples Democratic Party (PDP), and Rabiu Kwankwaso of the New Nigeria Peoples Party (NNPP), jostling to win the votes of Nigerians and become the next president to form a new government from May 29, 2023, have been called out for not seriously capturing the insurance sector, one of the cardinal indices for building an economy, in their manifestos, despite avowing to want to rebuild the Nigerian economy.
The insurance sector, on a global scale, has gained relevance as a relatively stable segment of the financial system, which analysts attribute to the fact that most insurers' balance sheets, unlike those of banks, are composed of relatively illiquid liabilities that protect insurers against the risk of rapid liquidity shortages that can and do confront banks.
In addition, insurance companies have maintained a positive impact on the stability of financial systems, attributed to their significant investments in financial markets, growing links between insurers and banks, and the dominant role insurers play in safeguarding the financial stability of households and firms by insuring their risks.
Statista, a global provider of statistics and market insights, described insurance as one of the largest industries in the world, with an estimated global market value of $5.9 trillion in 2022, a value greater than the gross domestic product (GDP) of all the countries in the world, except the U.S and China. Following this, Statista projected that the industry will record a compound annual growth rate (CAGR) of about nine percent annually, to hit almost $8.4 trillion in 2026.
In Nigeria, the insurance industry, despite the challenges of low public confidence, inadequate distribution channels and a hostile economy, has recorded a strong performance, spurred by the gradual adoption of technology.
Sunday Olorunndare Thomas, the commissioner for insurance in Nigeria, in an assessment of the industry, said the insurance industry has in the past five years (2017-2022), maintained a steady growth in gross Premium income (GPI), an indication that the future of the industry has remained bright.
Thomas, who spoke at the 2022 seminar for insurance correspondents organised by the National Insurance Commission (NAICOM) in Lagos, noted that the future of the Nigerian insurance industry is fast shifting its landscape for better.
The insurance commissioner disclosed that the insurance sector as at 2017 grew its gross premium income by 14 percent, which grew to 14.5 percent and 20.9 percent in 2018 and 2019, respectively. He also pointed out that In 2020, while other sectors of the Nigerian economy contracted, including the national GDP which growth contracted by -19 percent, the insurance sector maintained a positive growth with its graphical curve showing V shape. This, he explained, is an indication that unlike other sectors of the economy whose growth trajectory declined during the period, the insurance sector maintained a strong growth despite the pandemic and its associated business lock down.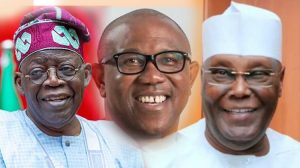 It is, however, both surprising and worrisome that an industry with such potential to strengthen the financial landscape of Nigeria was not seriously captured  in the manifestos of the country's presidential candidates during their various campaigns to woo the 93 million eligible voters for the forthcoming 2023 general elections.
Augustine Ebose, managing director, Anchor Insurance Company Limited, in a recent television interview expressed disappointment that no presidential candidate has addressed insurance as the only tool for economic growth. He observed that most of the candidates talked about wanting to build the economy, but failed to properly address one of the cardinal indices for building the economy, which is insurance.
The 2022 Insurance C.E.O of the Year, expressed confidence that only insurance can bail the country out of any form of chaos or uncertainties, insisting that the government needs to make insurance policy mandatory for all Nigerians, equated to having a BVN.
"What shocked me most is that as an insurance practitioner,  I have never seen any politician talk about insurance in their campaigns. They talk about the economy, but the most important part of the economy is insurance; because it is applicable to everybody," he said.
According to Ebose, insurance is seen as the last sub-sector of the financial economic sector, which is very bad, as this is the sector the government should be focusing on.
"There are funds that are just there. Imagine if 250 million Nigerians are insured, and the premium each has to pay on average is N1,000.  Imagine the kind of economy that we will have.
"We have the population, we have  everything to do so.  We have over four million cars in Nigeria, how many of those cars are insured? How many of them  have a third party? Now, the premium for third parties has just been increased to N15,000; people are petitioning the government. But why?" He queried.
The insurance expert said the government has to offer more capacity by creating the right structures and environment  to support the insurance practitioners as this will have a positive impact on other businesses around the environment. He added that the government needs to back their policies with legislation and ensure it is duly enforced, unlike the building insurance that the government has signed into law but with a questionable enforcement level.
Dwelling further on the role  the government needs to play in encouraging penetration of the insurance sector in the country, Ebose said: "Like what the BVN does in the banking sector, should we all not have BVN? Because without that you can not make withdrawals or other transactions.  Why is insurance not like that? Why are their (government) actions not deliberate?"
According to Ebose, if the government gets involved in ensuring that insurance is given such prominence as the BVN whereby Nigerians without  any form of insurance  (property, life, or whatever category) are denied access to socio-economic activities, this will lead to more people embracing insurance, he noted,
"Some of the insurance policies should be made compulsory. We have always emphasised this in our NIA committee. We are pushing that towards the National Assembly, but the government needs to speak up quickly, to help insurance, and help the economy," he stated.
The insurance practitioner asserted that insurance as a sector is the way forward and if improved, will have the capacity to employ more people. He added that when more people are gainfully employed, the economy will not only get a boost, it will also make more people appreciate the relevance of  insurance.
"If insurance is improved in this country, we will employ more people than banking, because we will have more products to sell, not just putting money in the bank for withdrawals. We have other responsibilities and products that can be introduced. We even take care of banks. If banks today get burnt, it is insurance they will call upon," he said.
Ebose also charged insurance practitioners to take up their responsibility and do a whole lot in encouraging insurance penetration by raising more awareness and improving their product offerings.
He, however, maintained that  the government has to be more active in its legislation to make it easier for insurers to thrive.
"For example, if we have like 150 million houses in Nigeria, and all of them are insured at N250,000, that kind of money will diversify to other sectors of insurance. In the UK, for instance, you can not do anything without insurance. It is compulsory [for a whole lot of things]," he stated.
Speaking on how the insurance sector can be improved upon in Nigeria, he said the first is to create awareness within the government cycle and make them understand that they need to take a deliberate path to ensure the development of insurance. He noted that creating awareness within the insurance sector is a catalyst for all the other sectors, and spur development of the economy.
Ebose also emphasised that the insurance culture should be initiated into the school curriculum, and studied at all levels as a compulsory course, just as mathematics is being studied. He explained that such an act will place the value of insurance into the consciousness of Nigerians and it gradually becomes part of them and a way of life.
He observed that the problem with many Nigerians is that they don't take insurance seriously, with many people referring to insurers as fraudulent institutions, a claim he described as a high level of ignorance.
"Insurance gives you peace of mind, and puts you back to the position you were before a loss. Once you know you have insurance, it gives you comfort. So, what people should do is to see insurance as a partner in progress. Just like people who lost their valuables during the "End SARS".  The very smart ones who had insurance were able to get their livelihood back, but most of  those who were not insured were not able to come back to the market," he said.
On the impact of insurance should some unforeseen disasters such as loss of properties and lives arise during the forthcoming election, Ebose said:
"If INEC insured their facilities, which of course I know they did, definitely there will be claims.
"The last election, we had some casualties, people lost their lives, people had accidents, there were burning of properties. What did we do? Insurance was called in, and those affected were compensated. For the properties that were destroyed, insurance had to restore them, even the cars that were burnt.
"Then for those who were not insured, their lives were wasted, but for those who were insured and got affected, their families were compensated," he explained.
Ebose commended INEC, and the Nigerian Police Force for being functional when it comes to insurance policies, and encouraged other organisations to emulate them, noting that it is part of welfare, and should be one of the responsibilities of organisations to ensure their workers are insured.