America
Another U.S. economic hub to be hit as Hurricane Irma churns toward Florida
September 6, 20171.3K views0 comments
Businesses are bracing for the worst as Hurricane Irma barrels toward South Florida, packing potentially catastrophic winds.
According to Bloomberg's report, insurers led the S&P 500 Index lower Tuesday, as forecasters struggled to predict whether the strongest storm to form in the open Atlantic Ocean will slam into the third most-populous U.S. state. A direct hit on Miami could theoretically inflict damages in the $200 billion range, according to Enki Research risk modeler Chuck Watson.
Cruise lines, banks and money managers prepared contingency plans. Since Hurricane Andrew ravaged the peninsula in 1992, South Florida has developed into a financial center, drawing hedge fund offices and billions in wealth from across the U.S., Latin America and beyond. Supermarkets in the city ran out of bottled water, residents rushed to hardware stores and voluntary evacuations prompted the price of flights leaving for New York to surge on Expedia.
Businesses and residents were particularly on edge in the wake of deadly Hurricane Harvey, which swamped Houston, strained federal resources and put pressure on insurance companies. Birmingham, Alabama-based Regions Financial Corp., among Florida's larger banks by deposits, said its teams worked through the weekend preparing. Yet with Irma's potential landfall still days away, business continued mostly as usual on Tuesday afternoon in Miami's Brickell financial district just blocks from Biscayne Bay.
Ray Zucaro, the chief investment officer at RVX Asset Management in Miami's Aventura suburb, said he's going to weather the storm in a hotel in the Orlando area. Many employees are leaving town too, some by plane.
"If the office is damaged we can still all work remotely," he said. "We're going through procedures and trying to batten down the hatches. I've told everyone tomorrow to focus on getting their homes and their families safe."
Downtown, some stores were doing brisk business.
"We've been through Andrew, so you have to be prepared," said Jessica Eagan, a 37-year-old dentist who was shopping at a busy Whole Foods, buying what she could on her lunch hour. "Look what just happened in Texas."
With large bottles of water in short supply, some shoppers were buying sparkling instead.
Cruise-line operators such as Carnival Corp. and Royal Caribbean Cruises Ltd., among South Florida's biggest companies by market value, are monitoring the storm and rerouting ships to avoid islands that may be hit.
A seven-day cruise on the Carnival Glory that left Miami on Saturday, for example, canceled stops in St. Thomas, Puerto Rico and the Turks and Caicos in favor of western Caribbean destinations such as Mexico and Belize. Royal Caribbean aborted two sailings to the Bahamas scheduled to depart Friday. The company is reimbursing passengers for their fares and giving them a 25 percent credit toward future bookings.
Miami-based Carnival is also prepping its call center and support staff for a possible landfall in Florida. "Fingers crossed for the storm to take a sharp right-hand turn north," Carnival spokeswoman Jennifer De La Cruz said in an email.
Carnival, Royal Caribbean and Norwegian Cruise Line Holdings Ltd. tumbled in Tuesday trading. So did insurers and some real estate investment trusts.
Analysts cited worst-case scenarios in which the storm could inflict as much as $130 billion in insured damage. Katrina, the costliest storm for insurers in U.S. history, resulted in about $50 billion in losses on an inflation-adjusted basis. Everest Re Group Ltd., Brighthouse Financial Inc. and XL Group Ltd. all fell more than 5 percent in New York on Tuesday, the worst declines in the S&P 500.
Analysts at Bloomberg Intelligence and Wells Fargo & Co. said REITs with apartments, retail or lodging holdings in affected areas may be especially exposed to damages.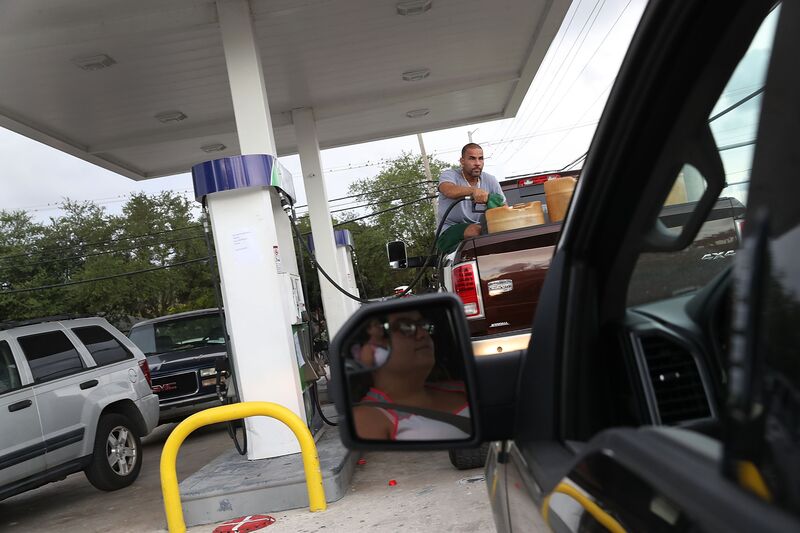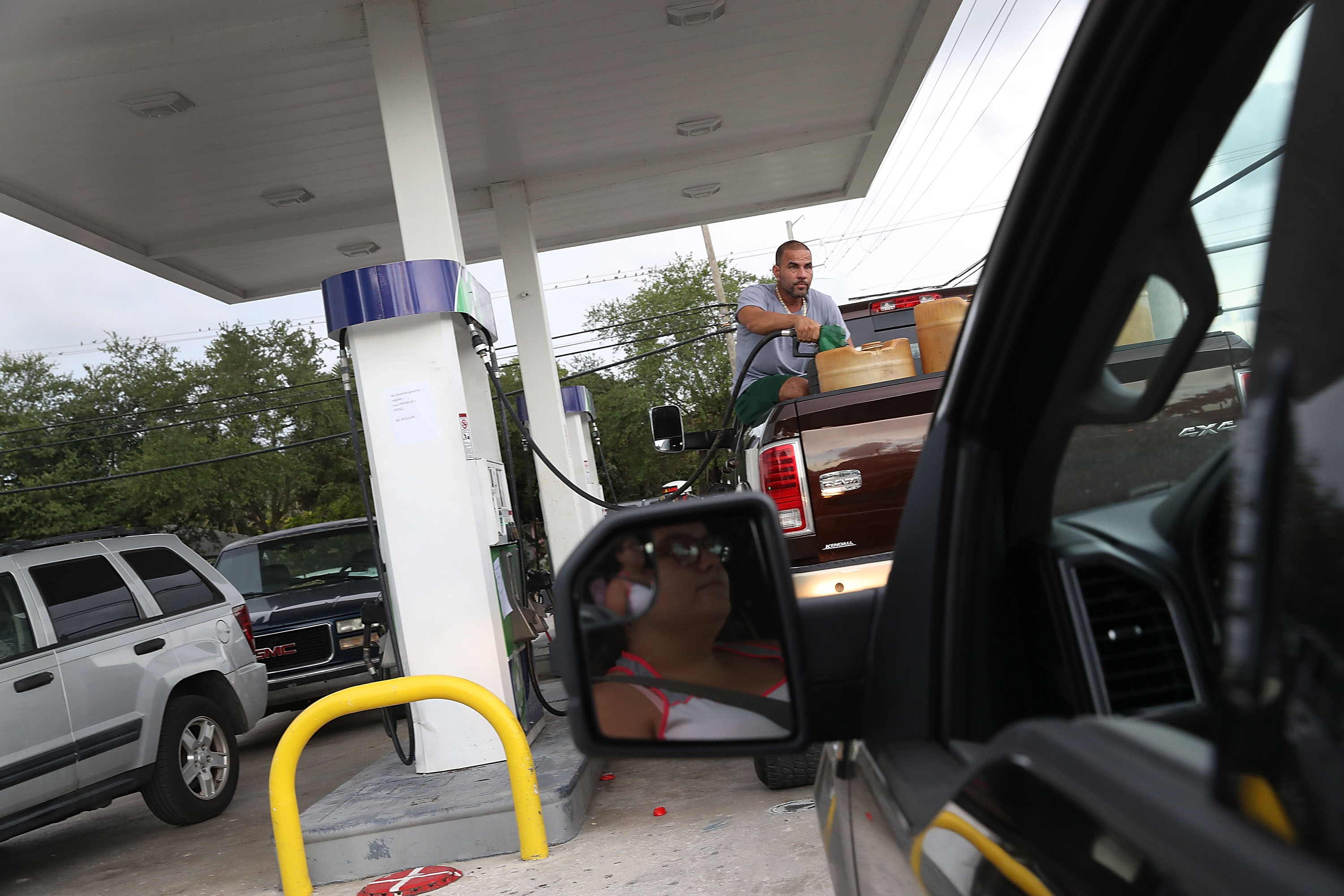 Hotels in the storm's path could see a drop in business as people leave the area and cancel trips, said Alison Hoyt, senior director of consulting and analytics for STR, a provider of data on the lodging industry. Last year, Hurricane Matthew cause demand for hotel rooms to shift inland, she said.
"You do see some of that potentially moving to other cities and just that overall drop in occupancy along coastal areas," Hoyt said.
Miami's hotel market has had an average occupancy rate of 79.2 percent this year through July, well above the national average of 66.6 percent, according to STR. Even so, room rates have declined amid a glut of construction.
Marriott International Inc. said its hotels in the projected path are preparing for the storm. The company said it will communicate directly with guests about Irma, and urged travelers to call for news about the storm before making plans.
In the Caribbean, some airlines are trying to get more customers to the mainland. American Airlines Group Inc. added two flights Tuesday from Sint Maarten and St. Kitts in the Leeward Islands to get passengers to Miami ahead of Irma. The carrier also will make an extra flight Wednesday morning from San Juan, Puerto Rico, to Miami. American has canceled dozens of flights to several Caribbean cities through Thursday, the airline said in an emailed statement.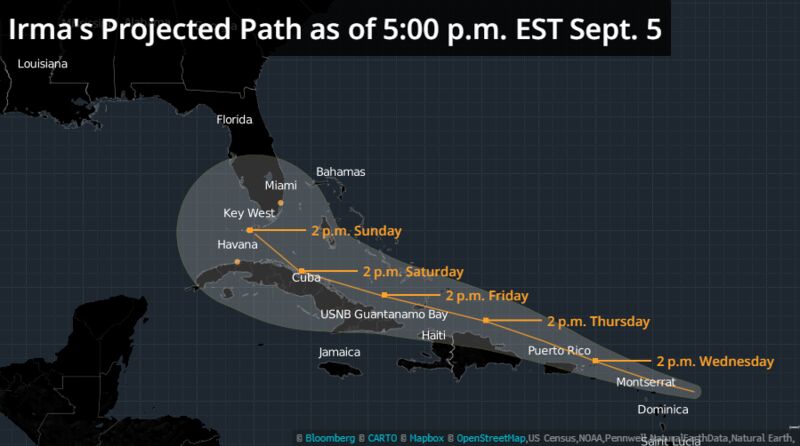 American also issued waivers for 27 airports in the possible path of the storm, including Miami, a move that enables customers to change travel plans for Tuesday through Sept. 12 to other dates without paying a fee.