Companies
Bank of Industry asset base soars 39.2% to N2.38trn 
May 22, 2023124 views0 comments
By Onome Amuge
Nigeria's Bank of Industry grew its asset base by 39.2 per cent from N1.71 trillion in 2021 to N2.38 trillion in the 2022 fiscal year.
Aliyu Dikko, chairman board of directors of Bank of Industry (BOI) Group, made the disclosure  during the 63rd Annual General Meeting (AGM) of the bank, held recently in Abuja.
Dikko  said the significant leap  in the bank's assets was achieved following the successful conclusion of three capital raising transactions in the year, in which the bank raised over $2 billion from the international financial markets.
This is in addition to an increase in profit before tax, which appreciated by 15.6 per cent to N71.98 billion in 2022, from N62.28 billion in 2021. The bank also reported a growth of 11. 7 per cent in its total equity between 2021 and 2022, from N 384. 85 to N 429. 83 billion respectively.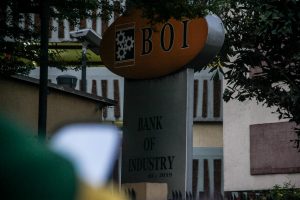 The BOI chairman noted that  loans and advances improved by 3. 2 per cent from N780. 48 billion in 2021 to N805.46 billion in 2022. He also announced that the bank declared a dividend payment of N7.82 billion to its shareholders.
According to Dikko, BOI's remarkable performance depicted the passionate and proactive disposition of the bank, to continue to effectively deliver on its mandate.
On his part, Olukayode Pitan, the managing director of BOI, emphasized that the performance and results of the bank have been instrumental in attracting both local and foreign capital, which have enabled the bank to fulfill its mandated obligations effectively.
Pitan also pointed out that BOI has demonstrated its ability to thrive and deliver positive outcomes by surpassing obstacles posed by the challenging economic conditions.
"The bank's consistent upward trajectory is a reflection of its commitment to providing financial support and fostering growth in various sectors, even in the face of formidable economic headwinds," he said.
The managing director disclosed further that the bank disbursed N210.7 billion to 418,436 beneficiaries which resulted in the creation of an estimated 1,255,974 direct and indirect jobs in the year under review. He added that the development is a 32.1 percent uptick from the 950,640 direct and indirect jobs created in 2021 through the bank's interventions.
This, according to him,include the disbursement of N2.51 billion to 932 beneficiaries in the pilot states of Kano, Gombe and Edo, under the $14.27 million BRAVE (Business Resilience Assistance for Value adding Enterprise) Women Nigeria programme, on behalf of the Islamic Development Bank Group (IsDB); and the disbursement of grants of N2.2 billion to 14,046 beneficiaries, bringing the total amount disbursed up to N2.54 billion, on behalf of the fund owners to 15,864 beneficiaries across 15 states.
Pitan also reiterated the bank's continued efforts toward supporting its stakeholders and achieving its mandate of transforming Nigeria's industrial sector, adding that the bank is committed to growing its shareholders' funds to N1 trillion, and its total assets to N10 trillion.