Oil and Gas
Biggest U.S. fuel pipeline fills up as east coast tanks drain
August 9, 20171.4K views0 comments
Colonial Pipeline is back to business as usual — with more demand to move fuels to the East Coast from Houston than it has space for.
After running below capacity about 45 days starting in July, the largest gasoline pipeline in the U.S. has restarted its practice of rationing space. The company froze shippers' ability to nominate more fuels this month to maintain the line's five-day cycle shipping frequency, spokeswoman Malesia Dunn said by email.
To be a big player in the U.S. gasoline market, it's essential to have a gateway to the high-demand center surrounding New York City. Some traders supply that hub with foreign imports, but 1.3 million barrels a day move north on the Colonial Pipeline from the refining hub near Houston.
Last week the arbitrage, or selling opportunity for European gasoline exports to New York, fell to the lowest level since January 2016, according to PVM Oil Associates Ltd data. Upcoming imports from Europe will also be stifled as the region's largest refinery shut unexpectedly. Royal Dutch Shell Plc will attempt to restart one of two crude units at the Pernis refinery Friday.
"Inventories of gasoline have been drawing down across the East Coast and now it makes sense to take more barrels through Colonial's pipeline," said Andy Lipow, president of Lipow Oil Associates in Houston.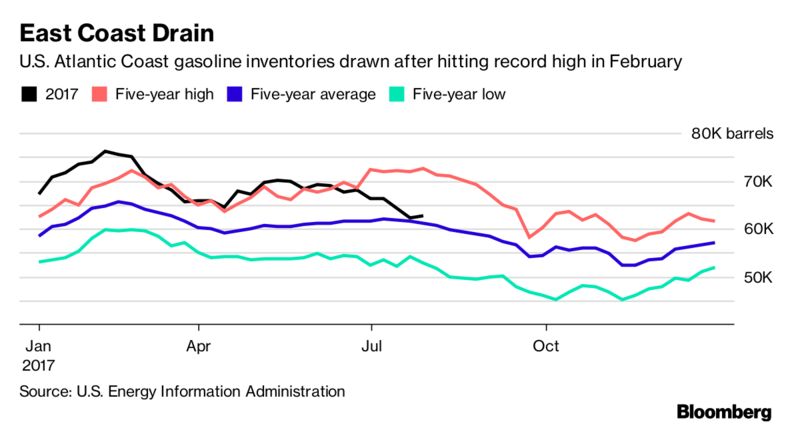 There were big profits available to Colonial shippers in the early 2010s when New York gasoline prices were normally 10 to 30 cents a gallon higher than the Gulf Coast. But only the committed shippers were getting a piece of the action. It was like an overcrowded subway train — outsiders were so desperate to ride that they'd pay the regulars for their seat. As more shippers began selling their space on the pipeline, a "line space" spot market emerged.
The market's fundamentals have since changed and Gulf Coast gasoline no longer carries a wide discount to New York as exports boom. Demand to ship on the line fell below capacity in July for the first time in six years.
"We've seen the economics of shipping on Colonial have been challenged for quite some time now, and it really is tied to the exports," Gary Simmons, Valero Energy Corp.'s senior vice president of supply and international operations said July 27 on a second-quarter earnings call.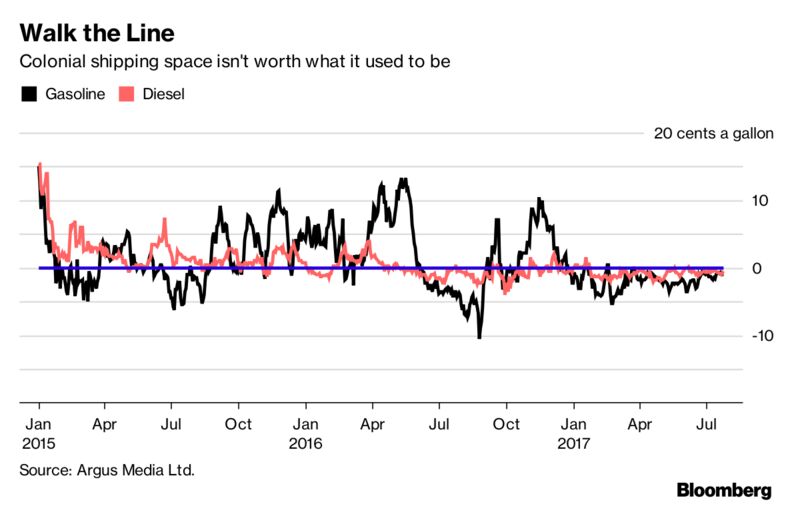 That fundamental shift also pushed the line space that traded near 30 cents a gallon in late 2014 into negative territory for most of this year, Argus Media Ltd. data show.
"If you own the space, then essentially you're short the Gulf," said Robert Campbell, head of oil products research for Energy Aspects Ltd. That's "been a horrific trade the last two years."
---
Report courtesy Bloomberg