Companies
Frontpage
Competition, price war ahead in wake of Flour Mills' acquisition of Honeywell 
November 29, 2021662 views0 comments
Acquisition changes dynamics of oligopolistic industry

Strategists at Olam, BUA go into engine room

FMN set for second-largest miller position
Operators in Nigeria's flour milling industry must be preparing themselves to the hilt for what is primed to be some expected market place changes that will come following the recent, notwithstanding Ecobank's caveat emptor, Flour Mills of Nigeria's (FMN) acquisition of Honeywell Flour Mills (HWFM), bringing together two well known names in the industry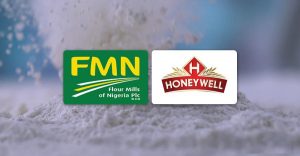 The acquisition of Honeywell by FMN, will require the latter not only to sweat the assets of the former, but the combined entity will have to sweat the market too, with competition warfronts set up in different areas, not only in product pricing but also quality, and an all out marketing war.
While FMN has long been recognised for its size, Honeywell Flour Mills, is itself a major flour milling and manufacturing company in the country. And as FMN has tried to push across, it has bought HWFM in order to expand capacity, create a more resilient national champion in the Nigerian food industry, as well as ensuring long-term job creation and preservation.
The new business acquisition will see Flour Mills become the second-largest flour miller in Nigeria after Olam Flour Mills and, using industry proxy, with an estimated capacity of 9,600 metric tonnes per day, behind Olam's 11,140 metric tonnes per day. Also, with estimates from industry experts, Olam has an industry market share of 44 percent, ahead of Flour Mills of Nigeria's current estimate of 32 percent.
But, with the completion of the acquisition, Flour Mills of Nigeria's market share will rise to 42 percent and slightly behind Olam. However, it has to be remembered that BUA Flour Mills, with a capacity of 1,600 metric tonnes per day, is currently constructing an additional 2,600 metric tonnes per day milling capacity that was earlier scheduled to come on stream in 2021, but which is now unlikely; but the completion will bring BUA Flour Mills total capacity to over 4,000 metric tonnes per day.
Analysts have stated that this scenario is gradually showing its hand in how the market dynamics of the industry is likely to play out, perhaps favouring millers who find  the right strategies to expand capacities.
Capacity as success factor for millers in Nigeria
Although plant capacity is a significant indicator of a company's market share in the milling sector, the move by Flour Mills to acquire Honeywell (its rival) will stir up more competition in the milling industry with a view to catching up with Olam Industries, which is the industry leader. However, since the entrance of Olam into the Nigerian and West African market in 2012, the company has always used acquisitions as a strategy to increase its competitive position, emerging as the largest miller after it acquired Dangote Flour Mills (DFM) in 2019.
Over the years, competition within the flour milling industry has remained prevalent among the top echelon with some major firms (six of them out of the about 21 millers) controlling almost over 80 percent of the market share, which places the market as an oligopolistic market similar to the cement industry. And as experts have noted over time, the industry is a volume-driven market, with earnings dependent on the ability to produce in large quantities and the strategy for its major players is to continually increase capacity to meet the ever-growing demand.
As a result of these, entrance into the highly capital intensive industry is dependent on the ability of prospects to build the required capacity needed to survive and compete. Also, the requirements of efficient distribution networks, marketing strategy and competitive pricing make it more difficult for the smaller concerns to break into the 'league of the big players with many of them forced out of business due to various inadequacies.
According to a Proshare Research report, the global market for Flour in 2020 was estimated at only $228.2 billion owing to the Covid-19 crisis, but the industry in Nigeria has had a hard time finding its way back from a COVID-19-induced downturn. Further from the report, Nigeria produces only roughly 400,000 tonnes of wheat out of the 4.7 million tonnes that it consumes annually; it produces about 8.5 percent of its required supply for confectionary flour bakeries and the production of pasta and other wheat-based foods.
Characteristics, features of flour milling industry
A look at the industry characteristics shows that turnover and earnings are driven primarily by market share and capacity utilisation, the major determinant of success among its players is organic growth.
Competition: However, analysts have noted that pricing in the industry is determined by the Flour Millers Association who would determine a 'fixed' price, which the producers are not allowed to exceed. This 'sticky' price is, however, often violated especially by the companies controlling a reasonable share of the market.
Price Sensitivity: Also, the product from several manufacturers will be price sensitive (staple foods with many substitutes are price sensitive) as any slight increase in price could lead to a higher decrease in quantity demanded as consumers will instantly shift their preference to other cheaper substitutes.
Heavy material and production cost: The flour milling industry is largely dependent on imported inputs. The basic raw material for flour processing is wheat and it is estimated that about 97 percent of the wheat that is used by flour milling companies is imported. This tells more about the exchange rate issue which manufacturers are grappling with.
Analysts react to acquisition of HWFM by FMN
Last Monday, Flour Mills of Nigeria Plc notified the Nigerian Exchange Group (NGX) of its acquisition plans for the 71.69 percent controlling stake in Honeywell Flour Mills Plc and First Bank Holding's 5.06 percent stake in the company at a total enterprise value of N80 billion. The transaction will see the controlling stake of Flour Mills of Nigeria in Honeywell Flour Mills increased to 76.75 percent.
But analysts, reacting to the proposed transaction, said they believe in the fact that the transaction has long-term competitive benefits for Flour Mills of Nigeria and is likely to be earnings accretive as long as Flour Mills of Nigeria can sweat the assets better and derive synergies which are unquantified currently.
Analysts at FBNQuest Capital Research, noted that, "On an annualized basis, Flour Mills of Nigeria's PBT margin is around 3 percent compared with just under 1 percent for Honeywell Flour Mills. The final equity price payable will be determined by Honeywell Flour Mills "adjusted net debt and net working capital" on the date of completion.
"Based on Honeywell Flour Mill's 2022 half-year numbers, we would expect the acquisition price to be well above Friday's price of N3.39, perhaps above N5 per share. We believe that Flour Mills of Nigeria can comfortably finance the deal, using its robust cash balance of N52.7 billion as at 2022 half-year financial statement and would not have to use new debt," the analysts stated.
Furthermore, the published disclosure on the Nigerian exchange revealed that the complementary transaction will combine Flour Mills market-leading offerings that include grain-based foods, sugar, starches, oils, spreads and breakfast cereals with Honeywell Flour Mill's market-leading diverse and differentiated range of carbohydrate products. Also, it stated that the business combinations will bring together the trusted and iconic brands, create a food business that is better positioned to benefit the growing Nigerian population and leverage opportunities stemming from the African Continental Free trade Area (AfCFTA).