Commodities
Copper firms as optimism for Chinese demand supports market
January 30, 2023180 views0 comments
By Onome Amuge 
Copper prices jumped into higher territory, while dealers awaited the reopening of Chinese  markets to provide clarity on how soon the demand for metals will fare after the world's largest consumer struck out its strict Covid-19 controls.
Three-month copper on the London Metal Exchange (LME) was up 0.4 per cent to $9,368 a tonne.
Market data showed that the red metal  has been flat in the week during a closure of markets including the Shanghai Futures Exchange  in China for the Lunar New Year holiday, but has advanced 12 per cent  so far this year.
The gains were largely attributed  to bullish investors betting on the reopening of the world's second-largest economy, expected to spur economic activity and metals demand.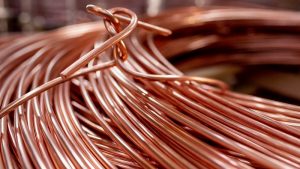 Commenting on this,  Gianclaudio Torlizzi, partner at consultancy T-Commodity in Milan, said; "My guess is that the market has a lot of upside left. There's no crowded long trade, currently the positions are very light so there's still space to increase that."
Torlizzi also argued against the views of some analysts and investors, who said the market has overshot because physical demand is currently weak and any recovery will take time.
"People are underestimating China's reopening because they are looking with a Western lens. I'm old enough to know that when the Chinese decide to accelerate their economy, they manage to do it,"he added.
Financial markets also received encouragement from reassuring U.S. economic and inflation data on Thursday.
Low inventories have also been supporting the market, with LME copper stocks slipping at the close of the week to the lowest in more than 10 months.
Supply issues have also been in focus, with output growth in top producer Chile expected to slow, according to a government report.
Most of the other metals also traded firmly on the LME as aluminium gained 0.3 per cent to $2,646.50 a tonne, nickel was up 0.7 per cent to $29,620 a tonne, tin rose 0.4 per cent to $32,390 a tonne, but zinc was unchanged at $3,486.50 a tonne, while lead slipped 0.4 per cent to $2,195 a tonne.