Nigeria
Craft brewer targets Nigerian palates and big brands
July 20, 20171.3K views0 comments
From pale ale with tangs of passion fruit and mango to a heady stout with 10 percent alcohol, a pioneering craft brewer in Nigeria is seeking to expand and grab more of a market dominated by Heineken and Diageo.
Bature Brewery has faced a slog to launch the first commercial products from its microbrewery tucked behind a burger joint in the capital, seeking to gain a foothold – albeit a small one – in Africa's second biggest beer market.
It has had to navigate Nigeria's Byzantine bureaucracy to secure a licence, install cables and a generator to deal with frequent blackouts and raise financing to import equipment and ingredients while the naira currency plunged.
But the three expatriate founders of Bature, who want to turn a passion for home brewing into commercial success, have been spurred on by an enthusiastic reception for their beers and encouraged by growth prospects in a nation of some 190 million.
Nigerians drink 16 million hectolitres of beer a year, which is half as much as South Africans – the continent's biggest beer market – even though Nigeria has a population that is more than three times the size.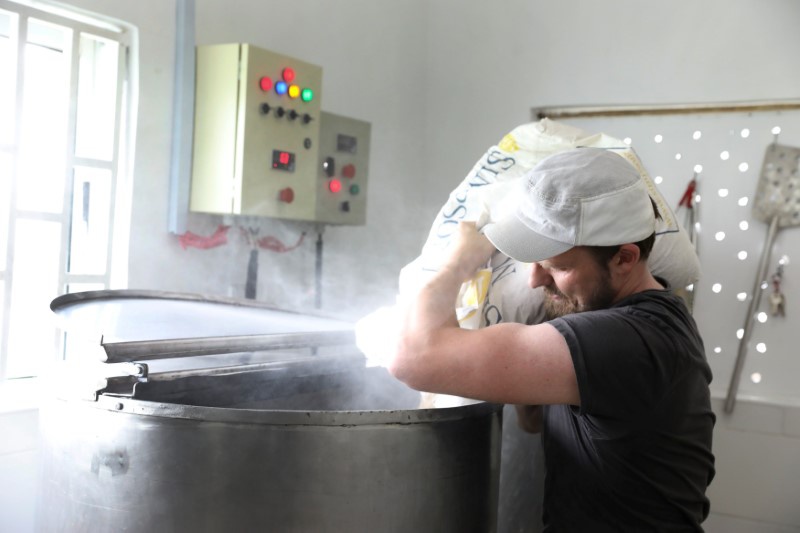 "Having Nigerians taste our beer and say, 'Wow, this is really great,' we decided to go for it and try and build this first (craft) brewery here in Nigeria," co-founder Kevin Conroy told Reuters at their Abuja operation.
Conroy, a Scot, came to Nigeria like his two co-founding colleagues to work in international development. Tired of mass-produced beers that they found bland, the three brewed their own and soon found others liked it too.
Conroy still works in development alongside helping build the brewer. His two colleagues – James Turley and Andrew Seward – have both quit their development jobs.
Bature – pronounced ba-tor-ray and meaning "white person" or "European" in the Hausa language mainly spoken in northern Nigeria – started production from its Abuja brewery in June. It now aims to raise 15,000 pounds ($19,500) via the Indiegogo crowdfunding site for a new equipment and a tap room where the public can try Bature brews on site.
The microbrewery's ambitions remain modest in the giant market. Bature plans to produce 40,000 to 50,000 litres in the next 12 months.
But its premium price reflects confidence in a class of more affluent drinkers in Nigeria, even when the oil-producing nation's economy has been hammered by weak crude prices.
"There is demand here – some major hotel chains have asked to stock us," said Conroy.
Out of Reach
Bature's 330 ml bottles of beer can cost up to 2,000 naira ($6.37) in a bar, although the founders say a bottle costs 500 naira direct from the brewery.
That compares with Heineken, the market's dominant player with a 69 percent share, whose 600 ml bottles can sell for 800 to 1,200 naira each in bars, while Nigeria's Star beer goes for 600 to 700 naira for 600 ml.
In a nation with annual gross national income per capita of $2,450, even the big brands – let alone Bature's pricier offerings – are out of reach of many in a country almost evenly split between Christians and Muslims.
And even major brewers have found it tough to expand as everyday prices have surged with the naira's devaluation.
"The consumer is under enormous duress with that 18 percent, 19 percent inflation on the back of a naira devaluation, and we are seeing disposable income dry up," John O'Keeffe, the Africa president for drinks maker Diageo, told a March conference call.
Nigeria is a major global market for Diageo's Guinness brand, the dark, extra stout whose local version comes with a hefty alcohol content of 7.5 percent.
But O'Keeffe said cheaper "value" beers had risen to almost half the market from 26 percent in the past 2-1/2 years. Last year, Diageo scrapped plans to lift its stake in Guinness Nigeria due to tough economic conditions.
Bature is unperturbed. In its effort to appeal to local palates and cut import costs, the microbrewery has sought to use more local ingredients.
Its Independence Day Coffee Stout with 10 percent alcohol content is infused with Nigerian coffee and promises "to make sure the caffeine kicks like a mule", according to the firm's website. Bature's dark Pepe Porter offers a spicey beer to match the popularity for peppery food in the West African nation.
Bature, which also brews lighter ales, uses Nigerian sorghum for malting mixed with imported hops.
Nigeria may offer a good, long-term punt for brewers. Nigeria's per capita beer consumption is about 10 litres a year, compared to a global average of 35-40 litres, said Morgan Stanley analyst Olivier Nicolai.
"If I was to take a bet over the next 20 years if the market grows or declines I would definitely say it is going to grow, but it is volatile and at the moment you have massive headwinds," Nicolai said.
---
Report courtesy Reuters