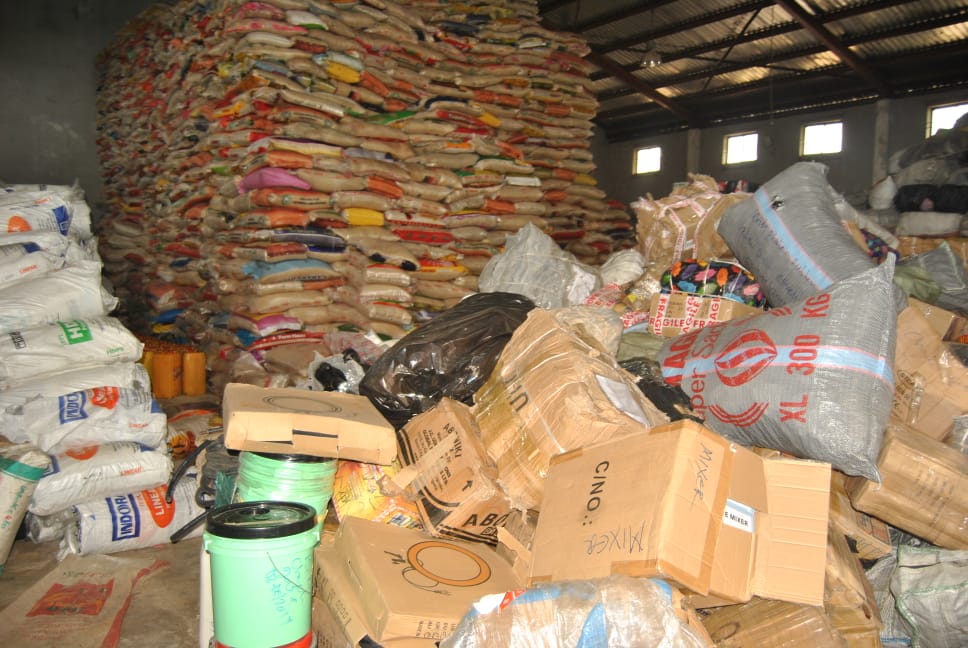 By Samson Echenim
The Seme Area Command of Nigeria Customs Service says its tariffs collections for 2019 hit N4.94 billion at the end of November.
Despite the closure of the border since August 2019, the amount is only N137.3 million lower than N5.07 billion collected by the command within corresponding period of 2018. The command was also able to reach 76 percent of the N6.5 billion revenue target allotted it for 2019.
The command also recorded 1,302 seizures of smuggled and contraband goods with duty paid value of N1.57 billion within the period. The seized goods included foreign rice, used vehicles, frozen birds, cloths and textile materials, used tyres and premium motor spirit (fuel), among others.
Mohammed Uba Garba, controller of the command attributed the many seizures recorded during the period to the strategic policy measures put in place to tackle the menace of smuggling, irregular migrations and other trans-border crimes.
Garba, a comptroller of Customs, further reiterated his commitment of ensuring that smuggling business becomes unattractive through vigorous community and public enlightenment, sensitisation on the dangers of smuggling and its impact on economy and national security.
The comptroller urged economic saboteurs to take the advantage of various federal government programs on agriculture such as anchored borrowers for rice farming, growth enhancement support scheme (GESS), government enterprises and empowerment program  (GEEP) and many others and key into for legitimate earning.
"The command has been surpassing its monthly allotted targets of N542.1 million, with exception of few months that we recorded slide shortfall as a result of general elections that was held earlier this year. In June this year, the command achieved its highest revenue collection of N895.2 million representing 165 percent of that month collections," Garba said.
Speaking on inter- agency collaboration and synergy, the comptroller noted that, a total of 1,992 parcels of hard drugs and narcotics have been successfully handed over to NDLEA during the period under review, while 47 suspects were arrested in connection with different kinds of crime committed, and were all handed over to all sisters agency saddled with the responsibility of investigating and subsequent prosecution.
"From the feedback received, some suspects were released on administrative bails, while other cases are still undergoing various stages of trial in courts. It may delight you to note that, four of the 47 suspects arrested have been convicted having pleaded guilty to the charges leveled against them by the Federal High Ikoyi in Lagos State. They are now serving various prison terms. They are one 29-year old  Ibrahim Musa (m),  19-year old Abubakar Sabo (m), Godwin Edet (m) 24 years and Maxwell Zosu (m) 26 years. They were convicted for unlawful possession of 5.7kgs, 5.1kgs, 4kgs and 2kgs of Cannabis Sativa respectively," he said.
The controller thanked all compliant stakeholders and border communities for their support to the command during the period, assuring that the service would take advantage of available capacity to increase revenue collection, facilitation of legitimate trade and improving community service while affirming the command continuing and unflinching support towards the ongoing border drill operations with a view to protect the nation from insecurity and menace of smuggling.