Nigerian Borders
Customs seize 2 Chisco buses over illicit cross-border drug smuggling
February 17, 2020684 views0 comments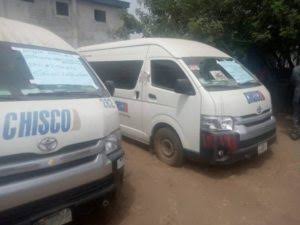 By Samson Echenim
The Nigeria Customs Service, Seme Command has intercepted and confiscated two buses belonging to Chisco Transport Nigeria Limited for illicit cross-border drug smuggling.
While briefing journalists at Seme, Dalha Cheidi Wada, acting area controller of Seme Command, said the buses were loaded with a total 42 
cartons of amphetamine syrup which have a cumulative value of about N6 million. He said the buses were also loaded with 422,500mg of tramadol.
Wada noted that in addition to breaching policy on border closure, which prohibits imports and exports in and out of Nigeria, the drugs were without National Agency for Food Drugs Administration and Control (NAFDAC) registration number.
"Such volume of prohibited drugs, if allowed to come into the country can cause harm to the people and capable of destroying lives of many youths due to reported widespread abuse," the controller noted.
According to Wada, the command had seized prohibited goods worth over N91 million recently, as smugglers remain desperately in business.
"Officers and men of Seme command are not unaware of these desperate groups of unpatriotic citizens. Therefore, we have resolved never to lose guard in watching them day and night leading to arrest and seizures of 235 contraband with total duty paid value of N91.16 million," he said.
Other seizures made by the border command include 
22 vehicles, 
1,113 bags of 50kg rice; 24,710 litres of PMS (fuel); 188 cartons of frozen poultry products; 105 textile materials; 84 sacks of used clothing, ladies handbags and shoes.
Other goods seized by the Customs are 30 sacks and a carton of soap; 35 cartons of choco drink; 51 pieces of motorcycle spare parts, 28 jerrycans of vegetable oil; 25 sacks of hides and skin.
Also seized are 10 sacks of melon (egusi); 89 cartons of blue and magarine, 2 sacks of stockfish, 12 packs of peanuts and 23 bundles of corrugated papers.