Frontpage
Markets
DangCem, DangSugar bring back bulls to deliver N132.8bn to investors
November 3, 2020579 views0 comments
By Charles Abuede
Naira trades flat at N463 per dollar on street
Investors focus on FGN bond for better yields 
The bulls made a return to the domestic equities market Tuesday to reverse Monday's loss following buying interest in Dangote Cement (+5.6%), Dangote Sugar (+1.6%) and UBN (+1.8%).
As a result, the NSE All-Share Index (ASI) advanced by 0.83 per cent to 30,733.47 points. Similarly, investors gained N132.8 billion as market capitalisation advanced to N16.1 trillion and the market year to date (YTD) return improved to 14.5 per cent.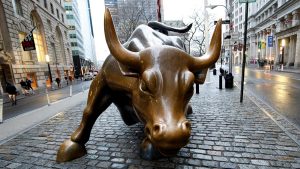 The market activity level was mixed as volume traded declined 10.7 per cent to 336.0 million units while value traded rose 2.3 per cent to N3.9 billion. The most traded stocks by volume were Zenith Bank (41.1 million units), FBN Holding (40.6 million units) and UBA (32.1 million units) while Zenith (N895.6 million), GTB (N604.9 million) and Dangote Sugar (N336.5 million) led by value.
Mixed sector performance
Performance across sectors was mixed, although positively skewed as three indices gained, two lost, while the AFR-ICT index closed flat. The Industrial Goods index led the gainers, up 2.9 per cent due to buying interest in Dangote Cement (+5.6%) and CAP (+9.6%).
Similarly, the Oil & Gas and Insurance indices rose 0.6 per cent and 0.3 per cent respectively following gains in OANDO (+7.0%) and Wapic Insurance (+10.0%).
Conversely, the Banking and Consumer Goods indices declined 0.5 per cent and 0.1 per cent respectively as GTB (-1.5%), Zenith Bank (-0.5%), Flour Mills (-1.6%) and Unilever Plc (-1.4%) lost.
Investor sentiment strengthens
Investor sentiment as measured by market breadth (advance/decline ratio) strengthened to 1.3x from the 0.8x recorded previously as 24 stocks gained against the 18 that lost. WAPIC (+10.0%), ABC Transport (+9.7%) and CAP (+9.6%) were top gainers while NPF Microfinance Bank (-8.8%), Custodian Plc (-7.4%) and AIICO (-4.6%) led laggards.
The NSE 30
The NSE 30 Index increased by 0.94 per cent to close at 1,329.19 points as against 1,316.82 points the previous day. Market turnover closed with a traded volume of 253.28 million units. Dangote Cement and FCMB were the key gainers, while Custodian and Guinness were the key losers.
FX Market:
At the street market in Lagos, the Nigerian naira maintained its bid at N463 for the second straight day this week, while it weakened by 0.10 per cent I&E FX market as the dollar was quoted at N386 as against the last close of N385.63 with most market participants maintaining bids between N383 and N393.49 per dollar.
Treasury Bills:
Also, the NT-Bills secondary market closed on a flat note with average yield across the curve remaining unchanged at 0.52 per cent. However, the average yields across short-term, medium-term, and long-term maturities closed at 0.37 per cent, 0.85 per cent, and 0.46 per cent, respectively.
In the OMO bills market, the average yield across the curve declined by 7 basis points to close at 0.42 per cent as against the last close of 0.49 per cent. Buying interest was witnessed across short-term maturities with the average yield falling by 14 basis points. However, average yields across medium-term and long-term maturities remained unchanged at 0.49 per cent and 0.63 per cent, respectively. Yields on 9 bills declined with the 24-Nov-20 maturity bill recording the highest yield decline of 29 basis points, while yields on 16 bills remained unchanged.
Bond Market:
Meanwhile, the FGN bond market closed on a positive note Tuesday, as the average bond yield across the curve cleared lower by one basis point to close at 2.27 per cent from 2.28 per cent on the previous day, while the average yield across short tenor of the curve compressed by 10 basis points, while average yields across medium tenor and long tenor of the curve remained unchanged.
The 26-APR-2029 maturity bond was the best performer with a decline in yield of 19 basis points, while the FGNSB 10-OCT-2021 bond was the worst performer with an increase in yield of 2 basis points.