Frontpage
Experts urge Nigeria to sign AfCTA, say pact indispensable to trade expansion
Chukwuemeka Obioma is  Businessamlive Reporter.
You can contact him on chukwuemeka.obioma@businessamlive.com with stories and commentary.
May 14, 20181K views0 comments
Nigeria has been advised to reconsider its reluctance to sign the African Continental Free Trade Area (AfCFTA) agreement.
According to a wire report, the call was made by some economic analysts in separate interviews in Addis Ababa.
The analysts argued that AfCFTA is in the interest of Nigeria and wondered why the country suddenly decided to suspend signing the agreement, after championing the cause for a while.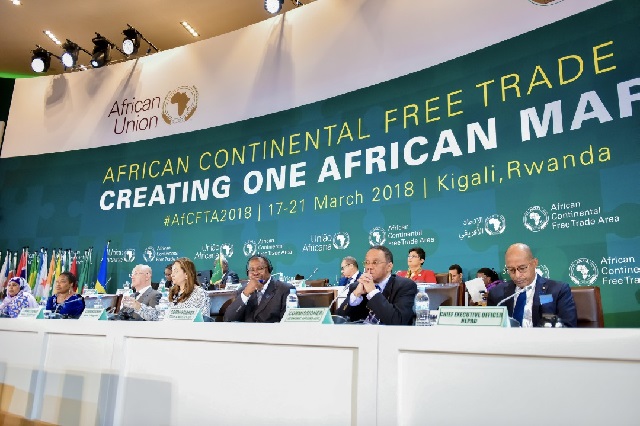 Those who spoke with NAN included David Luke, coordinator of African Trade Policy Centre, Regional Integration and Trade Division, and Stephen Njuguna Karingi, the director at the Integration and Trade Division, United Nations Conference on Trade and Development (UNCTAD).
Others are Yinka Adeyemi, senior advisor and head, regional integration and infrastructure, at the Economic Commission for Africa (ECA) Capacity Development Division, and Jim Ocitti, director of Public Information and Knowledge Management Division at the ECA.
Ayo Teriba, professor of economics and CEO of Economic Associates, in a telephone conversation with NAN, also shed light on why Nigeria must be a signatory to AfCFTA.
"This pact is Nigeria's initiative. Nigeria will sign it. The country only needs stakeholder buy-in to sign the pact. It is a delay, not a denial or refusal. Nigeria will eventually sign up," he said.
Meanwhile, NAN reports that the Lagos Chambers of Commerce and Industry will on Thursday, May 24, in Lagos, hold a stakeholders Forum on the AfCFTA agreement.
The Forum is expected to provide a platform for the private sector stakeholders to discuss and analyse likely effects of the agreement on business and investments in Nigeria.
The outcome of the deliberations at the Forum would form a basis for a private sector advocacy engagement on the agreement.
Also, plans may have been concluded by the ECA to seize the opportunity of the annual Nigerian Bar Association (NBA) Conference, to encourage Nigeria's ratification of the AfCFTA agreement.
NAN reports that the opportunity will come under the special session, titled: 'AfCFTA and Transformative Industrialisation in Nigeria'.
business a.m. reliably gathered that the conference also seeks to bring together, stakeholders in Nigeria's private sector, including the Manufacturers Association of Nigeria (MAN), for a brainstorming session
Nigeria is hesitant in signing the framework agreement establishing the AfCFTA following misgivings by local stakeholders, including the manufacturers association of Nigeria,(MAN), in spite of approval by the Federal Executive Council (FEC).