Finance
Frontpage
FAAC allocation to FG, subnationals rise 7.98 per cent to N2.84trn
June 21, 20231.1K views0 comments
By Business A.M. 
The statutory allocation from the Federation Account Allocation Committee (FAAC)  to the federal government, 36 states and 774 local governments in Nigeria stood at N2.84 trillion in the first quarter of 2023, representing  7.98 per cent increase  year-on-year   when compared to N2.63 trillion shared in the corresponding period of 2022.
This is according to data obtained from the FAAC monthly FAAC communique between January and April 2023.
The data, however, showed that there was a monthly downward trend during the four months in review.
The monthly FAAC communique for the period showed that allocations for January stood at N750.2 billion. In February allocations declined by 3.67 percent to N722.6 billion and  dropped 1.1 per cent to N714.6 billion in March.
The downward trend continued in April where allocations fell by 8.2 percent to N655.9 billion.
During the period under review, the federal government received N1.07 trillion, up YoY by 5.9 percent from N1.01 trillion received in the same period of 2022.
On a similar trajectory, states received N931.85 billion, representing a 12 per cent rise from N828.8 billion, while the local governments received N685.88 billion, rising by 11.9 per cent from N612.5 billion in 2022. Allocations from value added tax (VAT) also  rose YoY by 19.5 percent to N880.16 billion in 2023 from N736.06 billion in 2022.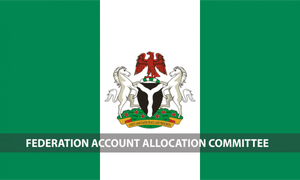 On the flipside, the 13 percent derivation fund received by oil producing states dropped  year on year  by 32 per cent to N132.7 billion in 2023  from N196.07 billion in 2022, reflecting the fall in crude oil production in March 2023 and April 2023.
In January 2023, crude oil production stood at 1.25 million barrels and rose by four per cent to 1.3 million barrels and down by three percent to 1.26 million barrels in March.
The downward trend continued in April where it declined by 21.5 per cent to 998,602 barrels.