By Business A.M.
A meeting held between the federal government and the organised labour unions in Nigeria concerning the removal of fuel subsidy has been adjourned after both parties failed to reach a consensus on the issue.
The labour unions were represented at the Presidential Villaa by Joe Ajaero, president of the Nigeria Labour Congress (NLC) and  Peter Osifo, president of the Trade Union Congress (TUC). On the other hand, Godwin Emefiele, the governor of the Central Bank of Nigeria (CBN); Mele Kyari, the chief executive of NNPC; Adams Oshiomhole, former governor of Edo State; and Dele Alake the presidential spokesman led the FG team at the meeting.
Business A.M  gathered that the meeting, among other things, was held to prevent a labour crisis following the recent increase in petrol pump prices across the country following President Bola Tinubu's statement on discontinuing petroleum subsidy.
The organised labour had, prior to the meeting, lamented that the government did not widely consult with them before the subsidy was removed, arguing that the action was already subjecting workers in the country to untold hardship.
They also stressed that the government must put in place plans to cushion the effect of paying more for fuel before the removal can stand.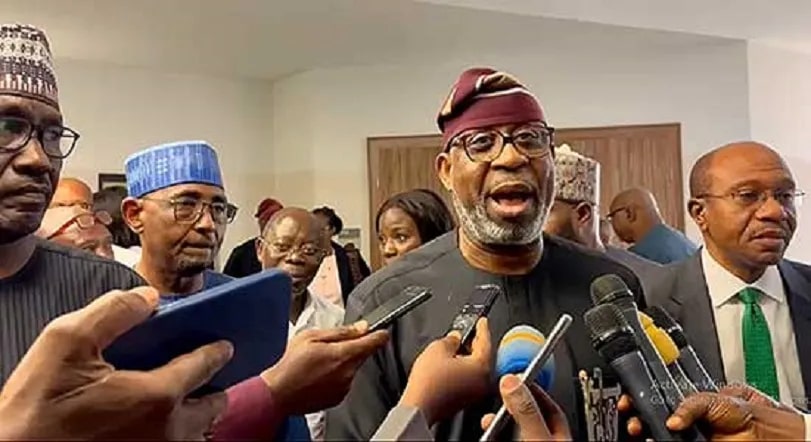 However, following hours of discussions, the representatives of the labour unions maintained that the government must revert to the old pump price before talks can continue, but the federal government delegations opposed the decision.
Addressing newsmen at the end of the meeting, Joe Ajaero, the NLC president said, "As far as labour is concerned, we didn't have a consensus in this meeting."
Ajaero faulted the NNPC over an official release published hours earlier, reviewing the petrol pump price in its filling stations nationwide, noting that the move puts the labour unions in a difficult position on the negotiation table.
Speaking further, he said, "The prayer of the NLC is that we go back to status quo, negotiate, think of alternatives and all the effects and how to manage the effects this action is going to have on the people, if it is an action that must take off.
"The subsidy provision has been made up to the end of June. And before then, conscious people, labour management, government, should be able to think of what will happen at the end of June. You don't start it before the time."
Dele Alake, who spoke on behalf of the federal government said the negotiations are ongoing and the parties will reconvene shortly at a later date to continue discussions on the matter.
Alake maintained that talks are ongoing, and it is always better for all sides to keep talking with a view to arriving at an amicable resolution that would be in the longer-term interest of all Nigerians.