Government
FGN Savings Bond August offer opens on Monday August 7th 2017
August 4, 20171.3K views0 comments
CBP Research
We write to inform you about the Federal Government of Nigeria Savings Bond which will open next week the 7th of August 2017. The bond subscription period will run from 8.00am on Monday the 7th of August 2017 till 12.00 noon Friday, the 11th of August 2017.
The Savings Bond will have almost all the features of the existing FGN Bond plus other features/benefits to the bondholder. It will be backed by the full faith of the Federal Government of Nigeria and is therefore deemed risk free.
For the August edition, the federal government of Nigeria has offered two different tenors (2 and 3 years); at different interest rates while other features of the bond remains the same. The investor can decide to invest in one of the tenors or both tenors at the same time.
Features of the 2-Year and 3-year FGNSB due August 16, 2019 and August 16, 2020 respectively: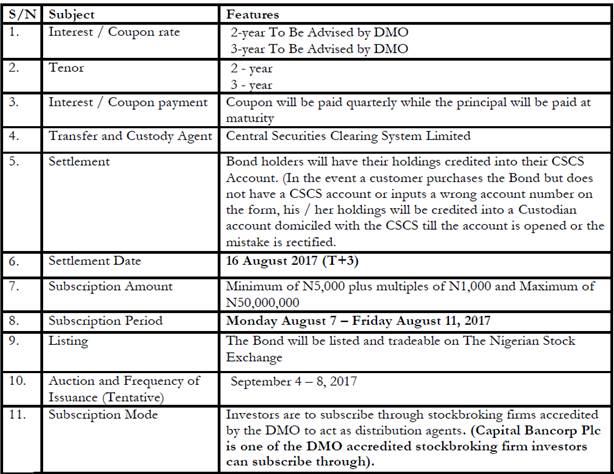 Benefits of FGNSB:
·         It offers better returns than interest rates currently being paid by banks on savings accounts
·         Steady source of income as coupon will be paid quarterly.
·         It offers capital preservation as the Bondholder needs not worry about losing his/ her capital if held to maturity.
·         Provides an alternative source of portfolio diversification
·         Interest income from investments are tax free
·     The investment can be used as collateral for a loan from Bancorp Finance (one of our subsidiaries) and other sources.
·         It helps investors save towards larger investments or retirement
·         Coupons can be reinvested to increase holdings and yield to maturity.
How to Apply and Make Purchase
·         Open a stockbroking / CSCS account with your broker.
·         Fill and submit the Subscription form for each tenor separately
·         Credit your broker's bank account with the said amount
·         On settlement date (August 16th, 2017) CSCS credits investors account with volume of bonds purchased
Transaction Cost
·         Primary Auction: There are no charges for purchases made through the primary auction
·        Secondary Market: A transaction cost of 1% of total face value will be charged for secondary market Buy / Sell transaction while CSCS will charge 0.0001%.
---
For further information kindly contact: research@capitalbancorpng.com