Commodities
Frontpage
Global food prices edged higher in August, FAO reports
September 2, 2021223 views0 comments
Global food commodity prices surged in August after two consecutive months of decline, reflecting a rebound in the international price quotations for sugar, wheat and vegetable oils, the Food and Agriculture Organization of the United Nations (FAO) has stated in its monthly report.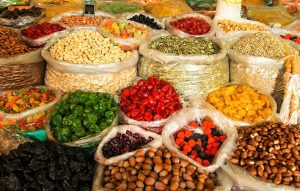 The FAO food price index, which keeps track of monthly changes in the global prices of commonly traded food commodities, averaged 127.4 points in August, up 3.1 percent from July and 32.9 percent on a year-on-year basis.
The report disclosed that the Sugar Price Index was 9.6 percent higher compared to July, as concerns over frost damage to crops in Brazil, the world's largest sugar exporter persisted. It, however, noted that production concerns were cushioned  by expectations of good production in India and the European Union, as well as by a decline in crude oil prices and a weakening of the Brazilian real.
International vegetable oil prices were also stronger, rising 6.7 percent in August, with international palm oil prices soaring to historic highs due to protracted concerns over below-potential production and resulting inventory reduction in Malaysia.
The international food agency further disclosed that the cereal price index averaged 3.4 percent higher in August than July, while world wheat prices climbed  8.8 percent as reduced harvest expectations in several major exporting countries weighed on supply.
On the other hand, maize prices remained on a downward trajectory, losing 0.9 percent as improved production prospects in Argentina, the European Union and Ukraine moderated the lowered production forecasts in Brazil and the U.S.
The FAO meat price index was slightly higher, supported by China's strong demand  for ovine and bovine meat,while rising import demand from East Asia and the Middle East buoyed poultry prices. Pig meat prices, however, recorded a decline due to China's recent  reduction in purchases and weak internal demand in Europe.
For the dairy index, the commodity price was down marginally from July, as international quotations for milk powders declined amid a weak global import demand and seasonally rising export availability in Oceania, more than offsetting rising butter and cheese prices, FAO noted.