Gold
Gold drops to 4-week low as stock markets settle
February 8, 2018915 views0 comments
Gold posted losses in Wednesday's session. In North American trade, the spot price for an ounce of gold was $1318.19, down 0.47% on the day.
On the release front, there are no major US events on the schedule.
It's been a volatile week for stock markets across the world, and this has triggered strong movement in gold prices. A massive sell-off on Monday sent spooked investors looking for safe assets, which boosted gold prices.
A key factor in the stock market slide was strong employment numbers on Friday, as nonfarm payrolls and wage growth reports beat estimates. Investors shied away from the stocks, concerned that the sharp data could lead to higher inflation.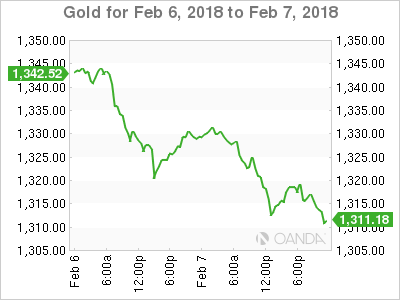 This, in turn, would result in more rate hikes this year, making the US dollar more attractive at the expense of gold and other currencies. However, US markets quickly recovered, posting gains on Tuesday and Wednesday. With risk appetite returning, gold has become less attractive and is trading at its lowest level since January 11.
Jerome Powell was probably hoping for a quiet start as the new chair of the Federal Reserve, but the stock markets had other plans. Powell, who took over on Saturday, was greeted by the largest one-day drop ever on the Dow Jones on Monday, as US stock markets nosedived.
Some analysts went as far as attributing some of the losses to the changing of the guard at the Fed, but this appears unlikely, given that Powell is expected to follow Janet Yellen's policy. This sentiment was echoed by St. Louis Federal Reserve President James Bullard, who said on Tuesday that he does not think that monetary policy will change appreciably under Powell.