Comments
Greece lifeline key to broader credit market fortunes
May 23, 20171.4K views0 comments
Want to know where European corporate bond yields are headed? Keep a close eye on Greece's bail-out talks, Bloomberg credit strategist Simon Ballard writes.
The yield spread of Greek government debt over German bunds is positively correlated to the European corporate credit quality curve, with a coefficient of 0.84 since January 2016. That suggests that the failure on Monday by Greece's creditors to reach agreement on Greek debt relief and secure the next tranche of bailout funding could spill over into the market for junk-rated company debt. Hope now lies that a successful conclusion can be reached at the next EU finance ministers' meeting on June 15.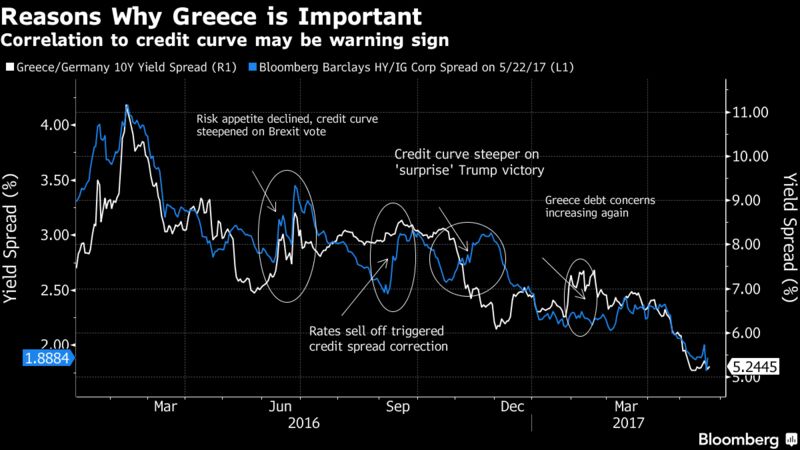 Low levels of fixed-income market liquidity have further contributed to the compression in spreads and the outperformance of higher-yielding peripheral euro-zone assets over the past couple of years. Central banks' quantitative easing programs have been an integral part of this liquidity evaporation. Any implied removal of this monetary accommodation over the coming months, with the futures market pricing in an 85 percent probability of a Federal Reserve interest rate increase next month and the European Central Bank also at risk of sounding more hawkish, could trigger an unwind in risk asset pricing.
The near-term outlook for Greek debt though probably lies more in the ability of the Troika to find a solution to the current impasse concerning debt relief and returning the country's debt profile to a sustainable level, as perceived by the International Monetary Fund.
With a debt-to-GDP ratio of 179 percent, the IMF is calling for debt forgiveness. Meanwhile, Athens is desperate to secure the next installment of financial life-support, ahead of its next scheduled debt repayments of around 7 billion euros ($7.9 billion) in July.
Any failure by euro-area finance ministers to find a solution could therefore trigger a reversal in credit market fortunes. While Greek debt might be the first to be affected, European peripheral and high-yield debt could quickly turn out to be unpalatable to investors as well.
---
Courtesy Bloomberg