America
Hurricane Maria threatens Puerto Rico after $1bn Irma damage
September 20, 20171.5K views0 comments
Hurricane Maria was on course to hit Puerto Rico just two weeks after Irma caused as much as $1 billion in damages on the bankrupt island.
Maria's top winds were at 155 miles (250 kilometers) an hour, the National Hurricane Center said in a notice around 6 a.m. New York time. At Category 5, the strongest classification on the five-step Saffir-Simpson scale, Maria was about 35 miles southeast of San Juan in Puerto Rico.
The agency forecast the storm will cross Puerto Rico on Wednesday and then move just north of the coast of the Dominican Republic later in the night and on Thursday. Maria had earlier battered the hurricane-ravaged Caribbean island nation of Dominica.
 At least six people died on the island of Dominica, said Laura Clarke, a spokeswoman for the government in London. "Damage is extensive throughout the island," she said, "and people are walking the streets in a delirious state of mind." With all lines of communication down, the government was relying on amateur radio, or ham radio, operators for updates.
"It is devastating, indeed, mind-boggling," Roosevelt Skerrit, Dominica's prime minister, said in a statement. The eastern Caribbean nation with a population of 75,000 has "lost all what money can buy and replace," he said. Skerrit said he was rescued after the roof of his house was torn off by the storm.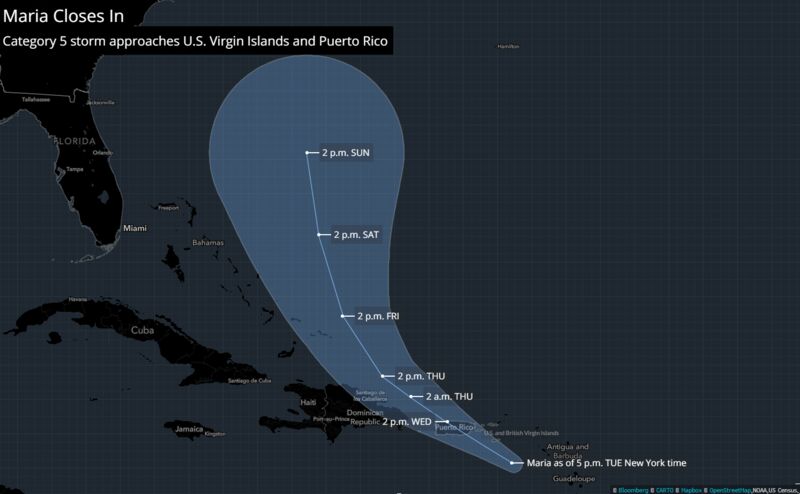 Maria follows Harvey, which struck the Gulf Coast of Texas, and Irma, which rolled over Florida after slamming the Caribbean. The storms left dozens dead and upended energy and agriculture markets. Combined losses from Irma, Harvey, and Maria could total $300 billion across the Caribbean and the U.S., said Joel Myers, founder of AccuWeather Inc. in State College, Pennsylvania.
Maria could cause $30 billion in damage to Puerto Rico and the U.S. Virgin Islands, said Chuck Watson, a disaster modeler for Enki Research. Puerto Rico filed for bankruptcy in May after years of economic decline while a series of defaults have effectively left it unable to raise money in the capital markets. Its aging government-owned electric utility operates under court protection from creditors and its emergency fund stood at about $32 million before Irma knocked out power to hundreds of thousands.
It could plunge "their not-all-that-robust electric grid into a pit of despair," Watson said.
A hurricane warning is in place for Puerto Rico, Culebra, Vieques, the U.S. and British Virgin Islands and Cabo Engano to Puerto Plata in the Dominican Republic.
Authorities in Puerto Rico warned people who live in wooden or flimsy homes to find safe shelter before the storm's expected arrival Wednesday, the Associated Press reported. At least one person was killed in Guadeloupe, with two other people missing after a boat sank off the coast near the mainland, CNN reported. The government said about 80,000 people, or 40 percent of the households on the island, are without power, according to CNN.
A dangerous storm surge of as much as 9 feet is expected along the coast of Puerto Rico, the hurricane center said. The forecast calls for drenching rains of 12 to 18 inches and as much as 25 inches in isolated areas.
Most long range models keep Maria away from the U.S. coastline after it passes through the Caribbean and the Bahamas this week, said Shane Mill, a meteorologist at MDA Weather Services in Gaithersburg, Maryland. "But I am not comfortable saying the entire East Coast is out of the woods yet," he said.
Meanwhile, Hurricane Jose weakened to a tropical storm and was 195 miles south of Nantucket, Massachusetts, according to NHC. The storm is expected to drop as much as 5 inches of rain on Martha's Vineyard through Thursday.
---
Report courtesy Bloomberg