Africa
Africa
IMF sees tough South Africa budget unless fiscal risk sorted
November 17, 20171.4K views0 comments
South Africa will face more fiscal difficulties and higher financing costs should state-owned companies' debt continue rising and if the nation's local debt is downgraded to junk, the International Monetary Fund said.
If state entities such as cash-strapped power utility Eskom Holdings SOC Ltd. and South African Airways request more state support, the government will have to step in to help, removing fiscal space for "more socially useful activities," Montfort Mlachila, the lender's senior resident representative in the country, said Thursday in an interview in Johannesburg.
"If the current fiscal problems are not addressed soon enough, it will obviously worsen the market sentiment and could increase the financing costs," he said. "If nothing is done between now and the budget presentation in February, then things will become a lot more difficult on the fiscal front."
Last month, the National Treasury almost halved its economic growth forecast for this year to 0.7 percent this year and said debt is predicted to rise. The deteriorating trajectory threatens to trigger a downgrade of South Africa's rand-denominated securities to junk by S&P Global Ratings and Moody's Investors Service. Fitch Ratings Ltd. already assesses the local-currency debt as sub-investment grade.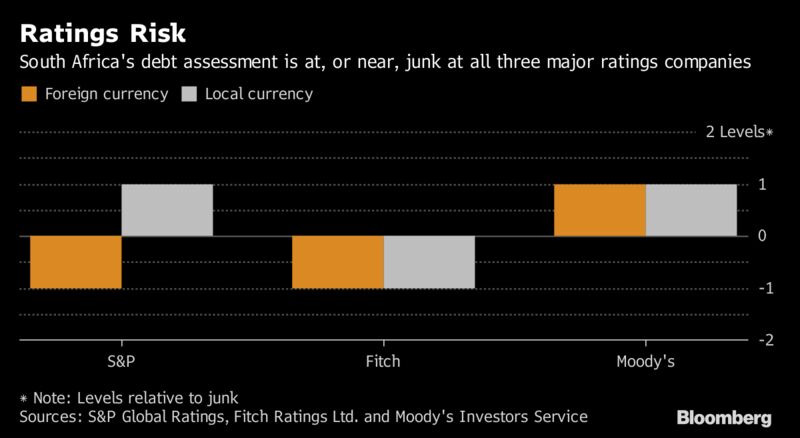 South Africa projects a revenue shortfall of 50.8 billion rand ($3.5 billion) in the government's fiscal year that ends in March, and sees public debt exceeding 60 percent of gross domestic product by 2021.
Despite the predicted widening fiscal gaps, Finance Minister Malusi Gigaba doesn't want to "deviate irretrievably from the fiscal consolidation agenda," he said in his medium-term budget presented on Oct. 25.
The country hasn't approached the IMF for help, Mlachila said. "If South Africa were to come to the IMF, we would obviously be ready to assist," he said.
The sustainability of the nation's debt will be at risk unless government presents a credible fiscal-consolidation plan in 2018, Moody's said Oct. 30. The change in policy direction away from a focus on fiscal consolidation is faster than expected, Fitch said Oct. 26.
Moody's assesses the nation's foreign- and local-currency debt at one level above junk and is scheduled to make an announcement on Nov. 24. S&P, which is also due to review its reading the same day, has South Africa's rand debt at the lowest investment grade, and foreign securities at the highest junk level.
---
Report courtesy Bloomberg