By Dikachi Elemba, in Owerri
ICBC wants N2.2bn set aside for 4-year plan
With acute unemployment ravaging Imo State due to the lack of sizeable companies that can help to absorb most of the unemployed graduates and school leavers, a body called Imo-China Business Council (ICBC) has said that for proper development and industrial revolution to take place, Imo State needs what it described as "a special will" by any government in power in the state to earmark and set aside about N2.2 billion for the project.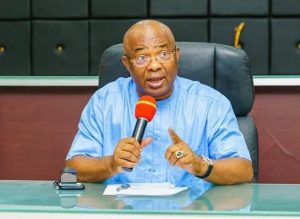 The body also stated that 10 percent will be for encouraging participating equity investment to foreign investors per year to establish three functional industries, one in each of the three zones in the state,  namely, Owerri, Orlu and Okigwe zone. This,  the body envisaged, will be able to create about 25,000 job opportunities for Imo people, yearly.
This was the outcome of their brainstorming on how to move Imo forward,  Chris Igwe, the president of Imo-China Business Council said, adding that if the advice is heeded and implemented, it will "in four years not only change the narratives of Imo State into becoming the industrial hub of South East Nigeria, but must have alleviated poverty by creating 100,000 jobs in  four years."
The ICBC said that it had entered into a memorandum of understanding (MOU) with some cities in China who are ready to work with  the Imo State government to achieve the envisaged plan under a four-year timeline framework.
"This in no doubt was how China became a country with the highest number of industries across the globe today, overtaking the United States of America and Europe in general, in both production capacity and export, as well as alleviating 700 million people out of poverty via industrial job creation with state developments enabling laws," the Council explained.
Imo-China Business Council noted that with a counterpart/encouragement equity investment as well as cheap labour in the first 20 years, China as a country was able to develop an awesome safe haven for foreign investors making them feel at home while concentrating on the needed infrastructures, such as power and road,  transportation,  health and education, among others.
Also that China allowed foreigners to take over investment developments in sectors like real estate,  industrial sectors with an enabling laws as a guide (Local  Capacity Developments Law) to using the influx of the foriegn industries and technical/technology to develop its  industrial man power capacities on both practical and R&D.
It also noted that today, within 20 years of learning and opening doors and another 20 years of practical technical growth of home owned technologies,  China  is stronger and expanding the frontiers of dominance  and economic cooperation.
Imo State, the ICBC stated,  has a big advantage of being at the centre of the South East and South South in terms of security and commercial infrastructure, besides its strength in population and educated youths, and should grab the opportunity its location is creating to establish an "Investment Equity Encouragement Fund", to partner with numerous Chinese investors already indicating interest in investing in the state since 2003 when the government of Guangdong Province approved the huge sum of $3.2 billion, but Imo lost it to Ogun State due to the internal wranglings of Ngor Okpala people on issues of land.
Informing that today the supposed Imo Free Trade Zone is now the popular Olokola EPZ Ogun State with a high number of factories, including those owned by Imo citizens.
It added that the government of Imo State should change its narratives towards developing industries that will in turn employ the youths, as well as reduce spending on security votes, he added.