Investment
Investment philosophy popularized by Warren Buffett may make a comeback
August 18, 20171.3K views0 comments
An investment strategy made popular by Warren Buffett could be back in vogue soon, according to Strategas Research Partners.
In a note to clients Thursday, Strategas pointed out that returns stemming from growth investment strategies have reached a point where they could start to underperform. This opens the door for value investment strategies, which have been popularized by Buffett throughout his long and successful investing career.
Value investing consists of finding stocks that are underpriced relative to peers and the market according to a fundamental metric, such as the price-to-earnings ratio. After identifying undervalued stocks, an investor could expect to benefit from an increase in value. The strategy was developed by Benjamin Graham, who was Buffett's teacher.
Here's a chart illustrating the potential leveling off from growth investment strategies relative to value. The chart also shows how value investing outperformed growth investing from the late 1990s until after the financial crisis.
Growth investing has been leaving the value in the dust in recent years, especially in 2017. As of Thursday's close, the information technology sector — which includes growth stocks like Facebook, Netflix, and Apple — is up 22.4 percent for the year, easily outperforming the rest of the market.
However, signs of a shifting tide are popping up.
Andrew Folsom, a senior investment analyst at the Wells Fargo Investment Institute, said in a note Thursday that 68 percent of active U.S. large-cap value managers outperformed their respective benchmark during the first half of 2017, the best among U.S. active managers.
Strategas recommended investors look at stocks like Pilgrim's Pride, MKS Instruments and Diamond Offshore drilling as value investing gets set for its return.
Buffett's Berkshire Hathaway also revealed some value plays in a regulatory filing released Monday, including Synchrony Financial. The filing also showed Buffett added to his stake in other financial names, like Bank of New York Mellon. Financials have risen 6 percent this year, but are among the worst performers of 2017.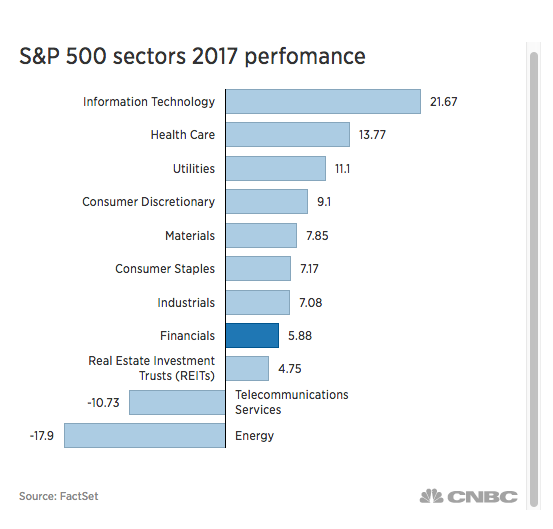 "Everything goes in cycles," said Adrian Day, CEO of Adrian Day Asset Management. "People calling for the end of value investing today were the same ones calling for the end of growth investing 20 years ago. Soon, it'll value's turn again."
---
Courtesy CNBC