Analyst Insight
Iraq's Kurds independence, its impact for oil markets
September 21, 20171.3K views0 comments
Iraq's Kurdish provinces plan to vote in a referendum on independence on Sept. 25, a poll that regional and Western powers, not to mention the central government in Baghdad, have decried as a catalyst for greater instability in a region gutted by war. At stake are the petrodollars that have helped sustain the Kurdish Regional Government's semi-autonomous rule after a budgetary deal with the federal government fell apart. Some of this oil wealth lies in disputed areas where the referendum will be held.
1. Why should the oil market care about this referendum?
The KRG says northern Iraq's Kurdish enclave could hold 45 billion barrels of crude reserves, more than OPEC member Nigeria. The region pumped about 544,600 barrels of oil a day in 2016 and is expected to boost output to 602,000 barrels this year, consultant Rystad Energy said in April. Last year's production represents about 12 percent of Iraq's total supply, based on data compiled by Bloomberg News. These volumes alone would put the KRG on par with OPEC's Ecuador and Qatar. To get its oil to market, the landlocked Kurdish area relies on a pipeline to the Mediterranean port of Ceyhan, Turkey. Kurdish exports averaged 515,000 barrels a day last year, according to cargo tracking compiled by Bloomberg News. Shipments averaged 583,600 barrels a day year to date, the data show.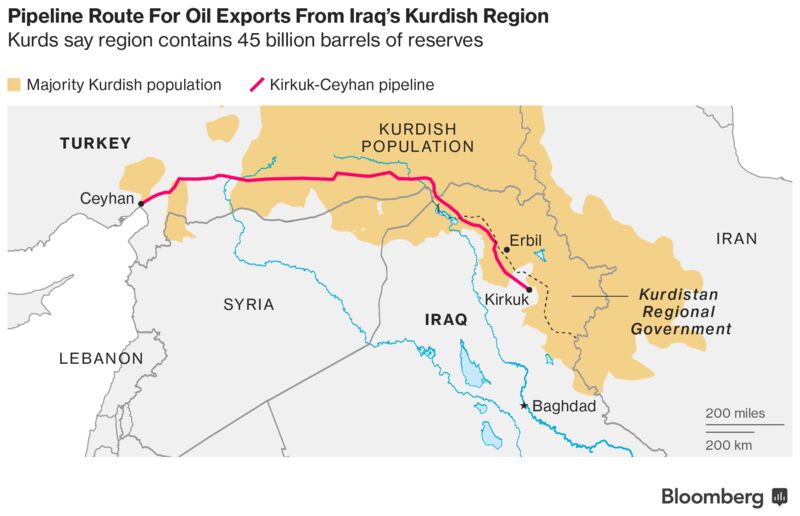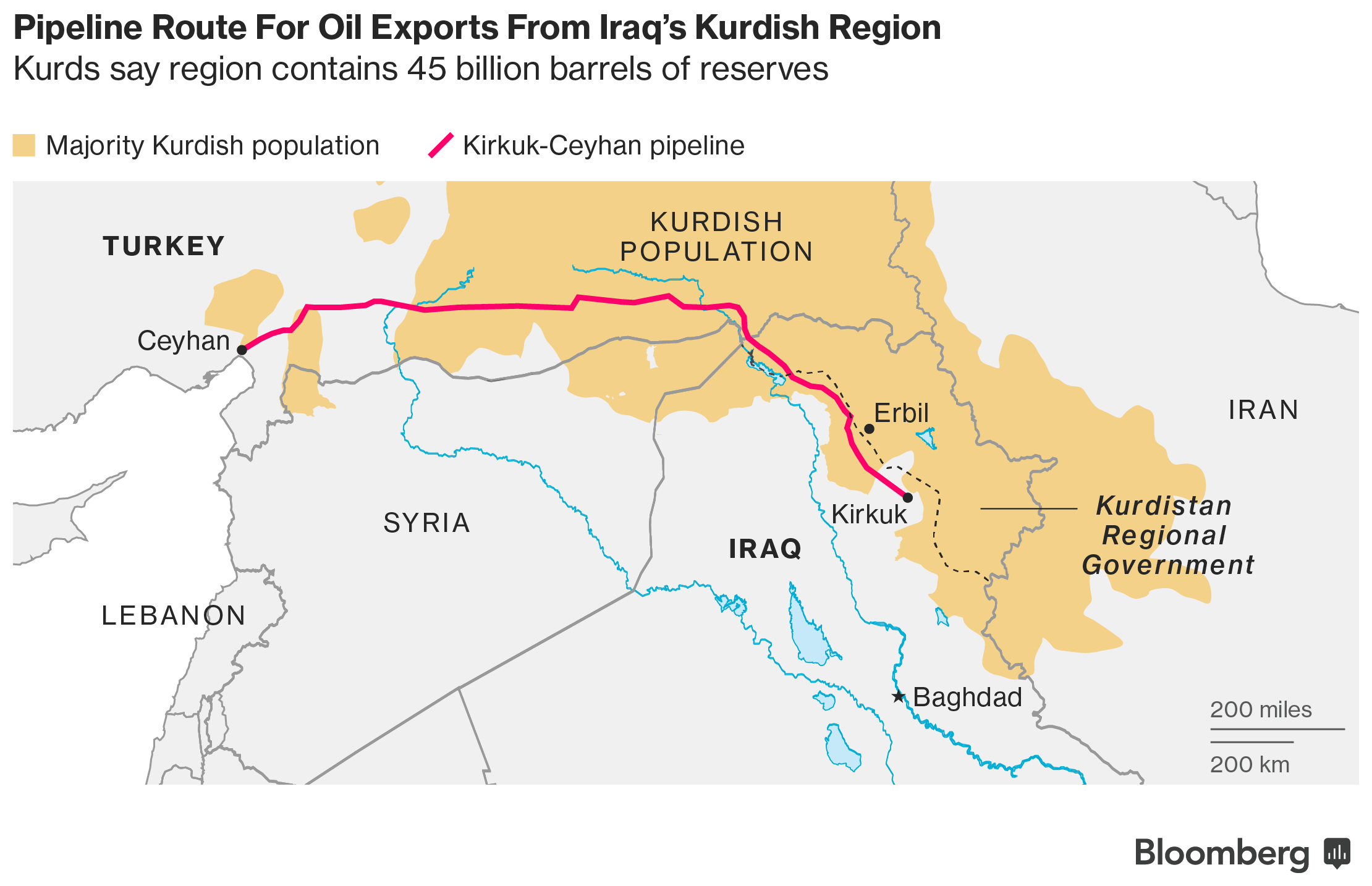 2. Does the referendum pose a threat to oil production?
The referendum will be held not only in the three governorates of the Kurdish region but also in the disputed region of Kirkuk and its oil fields, where Iraq first discovered crude in 1927. The federal government deems it illegal for the KRG to include Kirkuk in its referendum and has threatened to retaliate.
"The reactions to the referendum were childish," Ahmed Al-Askari, head of the energy committee at the Kirkuk provincial council, said in a phone interview. "We are peaceful people and ready to negotiate for our rights."
Kurdish forces took control of territory around the city of Kirkuk in June 2014 after the Iraqi Army fled from Islamic State militants, but Baghdad refuses to recognize Kurdish control of the area.
"We have some differences with the minister of natural resources of the KRG over the Kirkuk field," Iraqi Oil Minister Jabbar Al-Luaibi said on Sept. 19. The KRG's ministry of natural resources declined to respond to a Bloomberg request for comment.
Because the poll is non-binding, the International Energy Agency doesn't "anticipate any immediate change in the status quo at this time" and will monitor developments as they unfold, it said in an emailed statement. The IEA tracks supply from the Organization of Petroleum Exporting Countries, including Iraq, OPEC's second-biggest producer.
3. Are oil exports at risk?
The biggest risk to exports would be for neighboring Turkey — which opposes the referendum, given it has its own restive Kurdish minority — to shut down the pipeline that can transport as much as 700,000 barrels from Kurdish fields to Ceyhan, according to regional specialists Michael Knights of the Washington Institute and Michael Rubin of the American Enterprise Institute.
A Turkish closure of the link would wipe out recent gains in the KRG's energy industry, Knights said, citing the Kurds' regular payments to international oil companies in the past two years, a resolution of overdue receivables owed to some of these businesses and a proposal by Russia's Rosneft Oil PJSC to build a natural gas pipeline in the region. The fact that the oil pipeline has operated without interruption since the Kurds announced the referendum in June should reassure energy companies, Knights said.
4. Are there risks for oil companies?
Publicly listed international oil companies operating in the Kurdish territory include Gulf Keystone Petroleum Ltd, Genel Energy Plc and DNO ASA. Gulf Keystone operates the 36,700 barrel-a-day Shaikan field, while DNO produces at the Tawke field. Around Kirkuk, a local oil company, KAR Group, operates the Khurmala, Avanna and Bai Hassan fields.
Risks to operating in the region have eased amid the progress cited by Knights of the Washington Institute and recent military advances against Islamic State in northern Iraq.
"Our industry is the most important industry in the region, and it's in everyone's interest to protect" it, Jon Ferrier, Gulf Keystone chief executive officer, said in an interview on Sept. 19. Officials at Genel declined to comment. DNO couldn't immediately be reached for comment.
5. Why does Kirkuk matter?
Kurds, Arabs and Turkmens are all competing to control Kirkuk, making the city and its oil-rich area a potential flashpoint for conflict. Tensions are threatening to escalate after clashes this week between Kurds and Turkmen during an event to promote the referendum. Iraq's parliament voted to dismiss the province's Kurdish governor, a move KRG President Massoud Barzani said would end the partnership with Baghdad. Kirkuk fields under Kurdish control are pumping 350,000 to 400,000 barrels a day, according to Iraqi Deputy Oil Minister Fayyad Al-Nima.
"If the Kurds include Kirkuk by force in the referendum process, it will be considered then an occupied province by non-Iraqi forces, and then the prime minister will be obliged to take measures to take back these lands," Khalid Al-Miferji, who represents Kirkuk in Iraq's federal parliament, said in a phone interview.
---
Article courtesy Bloomberg