Commodities
Kenya coastal farmers bank on tilapia to grow returns
November 7, 20171.4K views0 comments
Fish farming along the Kenyan Coast has taken a new direction after scientists successfully introduced tilapia, a fish associated with fresh water into the marine culture.
Researchers from the Kenya Marine and Fisheries Research Institute (KMFRI) said the introduction of this new species would change the way fish farming, referred to as mariculture, is done.
According to scientists James Mwaluma and David Mirera the breakthrough has come at a time when local fish farmers have been grappling with a serious problem of fingerlings, a situation that has made the enterprise not as sustainable and as lucrative as was anticipated.
"Fish farming in marine waters has been going on for quite a while in the Kenyan Coast but it has not been as lucrative and sustainable as was envisaged and this led to exploring of fresh ideas that would add value to fish farming," says Mirera.
Following closely in the footsteps of China and other Asian countries that have diversified fish farming for local and export markets and reduce pressure on marine resources, communities living along the Indian Ocean have started reaping from tilapia, which has more value and yield.
"This type of integration has been done successfully in other parts of the world and more interestingly a country like China which started with our own Nile species has now become a leading exporter of farmed tilapia."
Mariculture, which was introduced at the Coast to ease pressure on the marine ecosystem, has seen more groups take up the enterprise.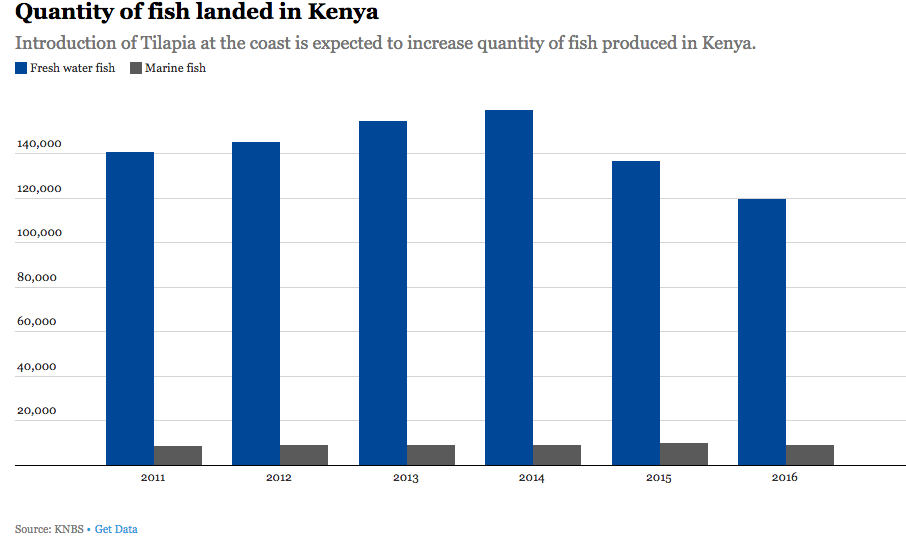 But over the years, local residents say, it has been difficult to scale up fish farming because of the erratic supply of seed and feed.
With the financial and technical support from the Australian Department of Foreign Affairs and Trade, Mirera says they were able to introduce and grow on a pilot phase tilapia and the results have been very fulfilling.
According to the findings, tilapia farmed in marine environment takes much less time to mature and has more value than the normal milkfish which has been farmed at the Coast.
The scientist says the research agency has developed a pure breed of marine tilapia which reproduces faster and can be ready for harvesting within four to five months.
"This means a farmer can harvest two to three times a year earning more money because of the ready and valuable market than the other species," he says.
"Besides, we discovered that tilapia seed is easily available because it does not depend on seasons like the other type where the fingerlings can only be obtained in the month of April."
Mirera is upbeat that Kenya is making strides in achieving a blue economy objectives.
Erratic supply of fingerlings has made many of the residents unable to sustainably carry out fish farming.
"The biggest challenge in fish farming along the Kenyan Coast has been the availability of seed and plans are underway to set up a hatchery in the South Coast to address this problem as well as that of value addition.
"But the new findings on marine tilapia means that farmers are able to get fingerlings throughout the year, making fish farming a full-time engagement in the area," says Mwaluma.
The agency says the hatchery project — estimated to cost about Sh100 million — will be built on a 16-hectare piece of land.
Mwaluma says once the project picks up, some of the residents will focus on breeding seed and sell to other farmers.
He says it is impossible to talk about successful fish farming without a steady supply of fingerlings and feeds.
"Inadequate supply of seeds and feeds has been the biggest challenge in the expansion of marine fish farming," he adds.
According to the findings in the pilot phase, farmers can stock up to 3,300 fish and Sh300,000 per harvest from one fish pond measuring 1,200 square metres, signifying an increase in income for the local communities.
The tilapia which is consumed in the Kenyan Coast comes from Lake Victoria meaning that the demand for the fish is very high and the value is much higher than the other marine fish species that are farmed.
Mirera says what was needed is to sensitize more farmers to take up tilapia farming while on their part as researchers to start zoning areas in the ocean where farmers can start cage fishing and grow more fish for the growing market.
"With the success of this initiative and once the mapping is done, it will not only be a preserve of the local fishermen but something that could attract major investors to put their money in fish farming.
"The ocean is big enough and means more people can be encouraged to venture into cage culture to increase yields," he says.
The experts expressed optimism that the cage culture, which is slowly but steadily gaining momentum, the introduction of tilapia would boost fish farming. According to Indices of Biotic Integrity (IBIs) — world's fish farming market research report which provides the latest industry statistics and industry trends — China has the largest aquaculture industry in the world, accounting for about two-thirds of total global cultivated aquatic products.
The report says 2017 output for the fish farming industry is expected to reach 20.2 million tonnes, or 40.9 percent of cultivated aquatic products and 30.1 percent of aquatic products in China.
"Over the five years to 2017, industry revenue is expected to grow at an annualised rate of 4.8 percent, with an anticipated 2.5 per cent growth in 2017 to $41.2 billion," concludes the report.
Mtongani Conservation and Eco-tourism Group Kilifi County chairman Elvis Ndundi, the biggest challenge is getting enough seed and to select a species without mixing with what might turn out to be predators.
"Fingerling collection is a serious undertaking because this is what will determine the type of harvest we will have at the end of three months," he says, adding that the introduction of tilapia is a great boost to fish farming in the area.
---
Report courtesy BusinessDaily