Agency
Manufacturing
Nigerians react as government eases trade border restrictions for Dangote Cement
November 11, 2020725 views0 comments
By Zainab Iwayemi
After over a year of land border closure in Nigeria restricting the import and export of commodities, the federal government of Nigeria has granted permission for Dangote Cement to trade across its land borders with the hopes to commence trade with neighbouring states on the African continent.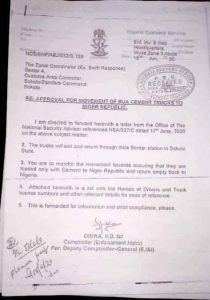 According to a monitored Bloomberg report on Tuesday, Michel Puchercos, Dangote Cement chief executive officer, disclosed during an investor call in Lagos that the company's exports were made possible through an authorization given by the President, MuhammaduBuhari's administration, which allowed Africa's biggest producer to export cement to Niger and Togo in the third quarter for the first time in ten months.
The Nigerian government had in August 2019, closed borders with neighbouring countries, including Benin and Niger, in what it said was a concerted effort to curb smuggling and boost local production. The blockade, although over the past year, had encouraged the consumption of locally grown produce, has hurt factories across West Africa, which rely on Nigeria's market of 200 million people.
However, constraint easing could be regarded as a softener on the government's position; it could also be seen as a way opener to other businesses to fully resume exports across the country's land barriers.
According to Puchercos, Dangote resumed land export with "restricted volumes," and plans to grow the trade using sea channels.
Meanwhile, Guillaume Moyen, acting chief financial officer of the company revealed at the same conference call that the Lagos-based company's plan to buy back some of its shares has been delayed by market volatility and low liquidity, which have affected valuation
But reacting to the development,AtedoPeterside, founder of Stanbic IBTC Bank, expressed concerns on why Dangote Industries Limited was the sole exporter allowed to move goods across the border amid the closure of the country's gates.
Peterside, via his Twitter handle on Tuesday, asserted that other legitimate exporters and importers should be allowed to move their goods across the borders.
"Allowing legitimate exporters and importers to move their goods across the border should be a no-brainer. Why refuse everybody else and allow only one company (Dangote). This is why some of us argue that the Nigerian economy is rigged in favour of a handful of well-connected persons," he twitted.