Companies
Economy
LAWMA points youngsters to sustainability, investment opportunities
November 14, 2023239 views0 comments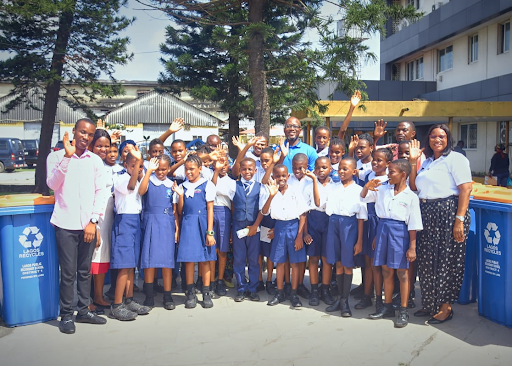 Business a.m.
Arguably Nigeria's leading waste management entity, the Lagos State Waste Management Authority (LAWMA) is pushing the subject to young people to bring them on board early on. And to get them interested and keen, its senior executives are taking time out of their busy schedules of keeping Lagos clean and healthy for its teeming population, to talk to students from primary and secondary schools on the issues of sustainability and investment opportunities inherent in waste management. 
LAWMA anchors its exposure of this twin subject by pointing out that there are many investment opportunities involving the conversion of  waste to wealth.
Bola Adewumi, deputy director, LAWMA Academy Training and Development, talked through these opportunities when, in its effort to expose young people to the subject of waste management,  the organisation hosted students from Verifort Academy, Ijeshatedo, Surulere, Lagos,  during an excursion visit to LAWMA headquarters at Ijora Olopa, recently. 
While enlightening the pupils, led by Ndidiamaka Oyeleye, the school's proprietress, Adewumi elaborated on many investment opportunities, under which she identified the circular economy in which wastes are seen as valuable materials that can be converted into resources for wealth generation. She told the students about LAWMA's focus on business opportunities in waste management, including but not limited to recycling.
According to her, waste management processes are what the Authority does to keep the state clean, which includes solid waste collection, transportation and disposal across the entire state. The private investment opportunities are many and diverse, among which is the    management of manure production from wastes, which can be used for soil enrichment in gardens and farms for increasing crop production. 
At the core of environment management and business opportunities, Adewumi spoke to the students about the concept of sustainability, which entails keeping the environment in such a way that the future generation will benefit. 
On modalities for private investments and prerequisites for private investors in waste management, she said a prospective private investor in waste management has to bring up a business proposal to LAWMA, rather than expecting LAWMA to prepare such for the investor.
She described LAWMA Academy as a training arm of the agency and a window for interface with the public through its training.
Muyiwa Gbadegesin, the managing director and chief executive officer of LAWMA, commended the Verifort Academy for bringing its students for training on waste management and how to keep the environment clean. Gbadegesin commended the school for such an initiative and promised to reach out to the school on the agency's future events. 
Representing the visiting students and staff of Verifort Academy, Gideon Nwachukwu of JSS 1 thanked the management of LAWMA for the opportunity to visit the facility and receive the training during the visit.