Analyst Insight
London's big bang banking hub pivots for post-Brexit reinvention
June 7, 20172.6K views0 comments
For 30 years, an army of UBS Group AG traders packed the football-field-sized floors of a building in the City of London's largest office project. Now teams of laborers in high-visibility jackets are busily transforming the property for a different type of worker.
Broadgate, a 32-acre (13-hectare) complex built to accommodate the banks and law firms that mushroomed out of London's Big Bang deregulation in 1986, is at the center of the city's efforts to attract more technology companies as finance loses its sway after the Brexit vote. With Britain preparing to leave the world's largest trading bloc, Broadgate's landlords are planning an overhaul to open it up to the neighboring Shoreditch district, a favorite for tech firms.
"Obviously after the summer there was a question about what were we going to do" about the development at 100 Liverpool Street, David Lockyer, head of Broadgate at British Land Co., said in an interview. "If we are entirely reliant on our traditional financial-services sector, we could be waiting for a long time" to fill the redeveloped building. British Land co-owns the campus with GIC Pte, Singapore's sovereign-wealth fund, which declined to comment.
After a four-year boom in demand for office space before the June 2016 referendum, a wave of 1980s office buildings are now becoming vacant as companies including UBS move into shiny new London headquarters. The owners of these relics of a bygone financial era are attempting to reinvent them to appeal to the industries they hope will be the engines of growth in post-Brexit Britain. The backdrop of political uncertainty and increasing office supply makes the task a daunting one.
The long-term outlook also gives rise to pessimism. London's office market could lose a quarter of its value over the next decade as more people work remotely, according to Fitch Ratings.
Office vacancies in the U.K. capital climbed to 5.8 percent at the end of the first quarter from 3.9 percent a year earlier, the biggest increase since 2009, according to data compiled by Deloitte LLP. The amount of empty City of London space will rise to 7.7 percent by 2019, according to CBRE Group Inc. So far, the best buildings rented for the longer term have held their value, while older properties have declined in price.
"We are observing a hint of risk aversion from a bunch of investors at the riskier end of the spectrum," said Toby Courtauld, chief executive officer of London landlord Great Portland Estates Plc.
Companies including Royal Bank of Scotland Group Plc, NEX Group Plc and Ashurst LLP are giving up their Broadgate leases in the next couple of years, while Deutsche Bank AG plans to sublease most of its space on the estate.
That helped prompt British Land's rethink. The proportion of space leased by the firm to banks has declined to 7 percent from 12 percent in March 2010, according to a presentation last month. It will fall by a further percentage point over the next year as the company seeks to "rebalance" its portfolio, CEO Chris Grigg said in a telephone interview.
'Tech Focused'
One Finsbury Square, a property that used to be occupied by UBS, will be "tech focused," with a communal roof terrace, retail space, restaurants and a cinema, according to Lockyer. "It's probably the first opportunity for us to really create and deliver something different within Broadgate and attract a non-financial type," he said.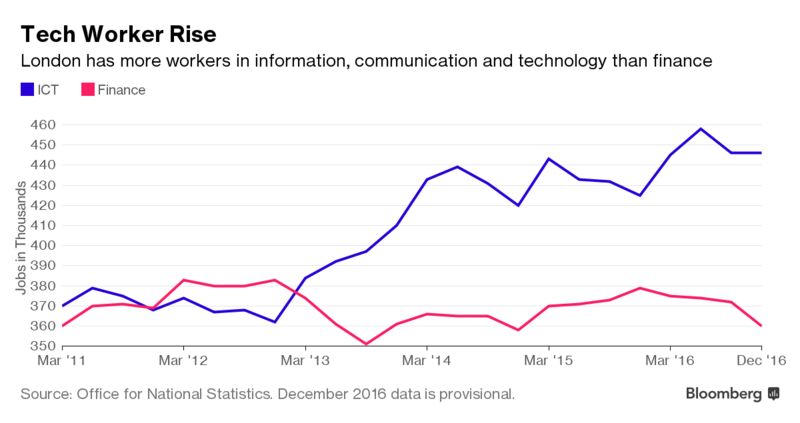 Still, a plan to undertake a more extensive remodeling — that would have involved extending the building — has been dropped, in part because of the Brexit vote. British Land also wanted to make sure the property would be ready before 100 Liverpool Street, and would therefore not have to compete for the same tenants. At the same time, the company has decided not to proceed with the construction of a tower to replace two neighboring buildings until it has found tenants, Lockyer said.
"Given the amount of other space we have to do, speculatively developing would have been brave," he said.
With bankers on the way out, pop-up restaurants in repurposed shipping containers and 10-pound ($12.90) lobster and crayfish rolls are on the way in, alongside bars selling bottles of Dom Perignon champagne for 220 pounds. British Land and GIC plan to double the number of stores and restaurants at the complex by 2019, with much moreplanned after that as part of the diversification.
For the first time, British Land is offering flexible work space, allowing tenants to sign shorter-term leases that are typically favored by startups and SMEs because they are often unsure how much space they may need in the years to come.
Stores, Restaurants
Broadgate's current layout means that offices face inwards, presenting their backs of stone, steel and glass to the previously unloved neighborhoods beyond. The new plans include replacing unwelcoming ground-floor office space with stores and restaurants to attract people from the newly fashionable streets to the north and east, where rents have grown much more rapidly.
"When Broadgate was conceived back in the 1980s, you almost felt there was the wild east beyond," Grigg said. "There are great opportunities to open it up and increase the connectivity and vibrancy."
The cost of leasing the best offices in Shoreditch, where Amazon.com Inc. is expanding, has more than doubled since 2011 to 66.50 pounds a square foot, according to data compiled by Knight Frank LLP. Rents in the heart of the City of London have risen a more modest 27 percent to 70 pounds a square foot, the broker's data show.
British Land was sufficiently confident there would still be demand for space after the Brexit vote that in November it announced it would complete the redevelopment of 100 Liverpool Street before leasing the 520,000 square feet (48,000 square meters) of space.
"It was important for us to get on with it," said Lockyer, referring to the 328 million-pound project which may include carving up the trading floors into much smaller offices. "We did go back and redesign the interiors. It still appeals to financial services businesses, but it has got a wider appeal as well."
Brexit Effect
With the prospects for London's property market deeply uncertain, Broadgate's attractiveness will get a boost from the arrival next year of the Elizabeth Line, a cross-London railway that will have an entrance on the estate's doorstep.
"Brexit is definitely a negative for London offices" Hemant Kotak, an analyst at Green Street Advisors, said by phone. "But what British Land is doing at Broadgate in terms of diversifying the uses and tenants is very intelligent, and ultimately it could end up being healthier for London overall."