By Sade Williams
AFTER FLYING MILLIONS of passengers and freights on the Lagos-Dubai and Abuja-Dubai routes in all of 15 years, Emirates, the Middle-eastern global airline, brought out the drums at the weekend to celebrate a remarkable time of flight services to Nigeria.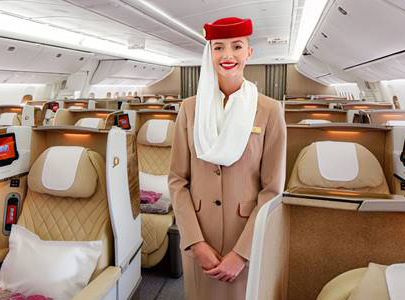 The airline commenced flight services into Lagos in 2004, a key gateway to West Africa, with four flights per week from Dubai to Lagos linked with Accra in Ghana, and operated with the Airbus A330-200 series aircraft.
The following year, the airline increased its services from four to six flights a week, and following further demand, it became a daily operation in October 2005.
The airline has seen a steady growth in operations, and on 1 January 2006, Lagos was delinked from Accra and became a direct service to Dubai. Emirates started its second daily service to Lagos in February 2009.
Since its first flight, Emirates has flown millions of passengers on the popular Nigerian route and has become the airline of choice for both premium and value-conscious Nigerian travellers.
In response to growing demand, Emirates launched services to Abuja in 2014, 10 years after its inaugural flight to Nigeria. Emirates now operates a double daily service to Lagos with the Boeing 777-300ER aircraft, which offers eight private suites in First Class, 42 lie-flat seats in Business Class and 310 spacious seats in Economy Class. The airline operates four weekly flights to the Nigerian capital, Abuja, set to become daily from 1 June 2019.
Afzal Parambil, regional manager, West Africa, said about the development: "Emirates has enjoyed a strong relationship with Nigeria, and remains deeply committed to the market. Over the past 15 years, we have not only seen our operations grow, but our product develop to cater to the taste and requirements of our Nigerian customers. We constantly strive to provide our passengers with an unforgettable travel experience, and our growth is a testament to the fact that we are on the right track."
Emirates SkyCargo also started operations in 2004 and has since carried 14,000 tonnes of mobile phones, garments and personal effects as imports, and has exported over 4,000 tonnes of fresh kolanuts, beverages and mobile phones. Currently, Emirates has 271 aircraft in service and operates flights to 158 destinations in 86 countries. Its staff strength in Nigeria is presently almost 150.
In keeping with its on-board food philosophy to relreflects both local flavours and international cuisine, Nigerian travellers can look forward to Nigerian favourites such as Jollof rice, beef stew porridge yam, braised chicken thighs, rice with black eyed beans, fried plantain, sautéed spinach, sweet potato mash, and chicken stew.
'ice', Emirates' award-winning inflight entertainment has over 4,000 channels of on-demand entertainment, with a diverse mix of African and Nollywood films and music. Travellers departing from either Lagos or Abuja to their various destinations can enjoy an amazing list of entertainment curated for their comfort on-board.
'ice' brings new movies, latest TV shows and music from all over the world including home-grown films such as 'Lara and the beat', 'Mr. Not So Perfect', and 'The lost Café'. The airline also has a wide music offering with Nigerian and Afro beats including Davido's Son of Mercy-EP, Burna Boy's Outside, Wizkid's Sounds from the other side, and Fela Anikulapo Kuti's playlists, amongst others.
Recently, Emirates launched a pan-African brand advertising campaign that celebrated the talent and achievements of young Africans, taking the message of 'New Africa' to the world. Paying tribute to a new generation of African disrupters who are making their mark globally across music, fashion, literature and the arts, the campaign celebrates the cultural renaissance taking over Africa. The short films tell the stories of unique individuals from different parts of the continent. Poised to become cultural ambassadors for Africa to the world, they share a common passion to bring their global exposure and influences to their own local journeys, as they discover what it means to be 'home'.
The campaign included Nigeria's very own Abiola Oke who left New York and a career on Wall Street to return to his hometown Lagos, as the CEO and publisher of OkayAfrica – a digital media platform – at the age of 31. His business is dedicated to African music, film, culture and entertainment.