By Onome Amuge
Vehicle owners in Nigeria will enter the new year 2023 and find that their third party insurance premium has gone up following the decision by the regulator, the National Insurance Commission (NAICOM) to release new and higher premium rates for motor insurance with effect from January 1, 2023.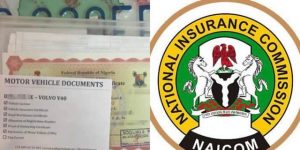 The new rates show that private vehicle owners will pay N15,000 as premium for third party vehicle insurance certificates, a 200 percent increase compared to the previous rate of N5,000.
The new directive, addressed to all insurance institutions, was contained in a circular titled: 'New Premium Rates for Motor Insurance',numbered NAICOM/DPR/CIR/46/2022,dated December 22,2022, and signed by Leo Akah, the director, policy and regulation, NAICOM, on behalf of Sunday Thomas, the commissioner for insurance.
NAICOM stated that the approval was in accordance with the exercise of its function of approving rates of insurance premium under Section 7 of NAICOM Act 1997 and other extant laws. It also noted that the third party insurance policies were inclusive of ECOWAS Brown Card coverage.
The commission, in the new premium rates, approved N3 million Third Party Damage (TPPD) limit for private motor and a new premium of N15,000; N5 million TPPD limit for own goods with a new premium of N20,000; and a staff bus TPPD limit of N3 million with a premium of N20,000.
For commercial vehicles, trucks/general cartage has TPPD limit of N5 million and premium of N100,000. Special types have TPPD limit of N3 million and premium of N20,000.
On the other hand, tricycle has a TPPD limit of N2 million and a premium worth N5000, while motorcycle has a TPPD limit of N1 million with a N3000 premium.
The new rule submitted that the comprehensive motor insurance policy premium rate shall not be less than five percent of the sum insured after all rebates or discounts.
NAICOM also warned vehicle operators that failure to comply with the circular shall attract appropriate regulatory sanction.