By Saby Elemba
In order to boost food security in the South East region of Nigeria, Austin Nnadozie-JustCorn Multipurpose Agro-Geo Cooperative Society, an agriculture enthusiastic group, is challenging youths, young farmers, as well as those  with a mindset to take farming as their occupation, to register with the cooperative society and partake in the vast hectares of farmlands that have already been procured.
The  farmlands located in Okigwe local government area of Imo State, which Ezelukwu Ventures Nigeria Limited had acquired are for scientific and intensive mechanised agriculture system,  and  for young farmers and youths who may not have needed land to plant  crops such as maize, cassava and vegetables.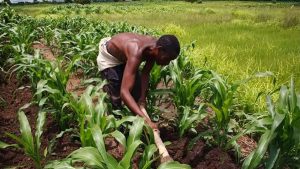 Austin Nnadozie, chairman, Ezelukwu Ventures Nigeria Limited, explained that for the young and budding farmers, the Agro-Geo Cooperative Society will form groupings consisting of 10 persons for a cluster of 10 hectares which will be allocated to them.
He also informed that where the need arises and in accordance with their desire,  more than 10 hectares of farmlands per cluster will be allocated to the interested farmers.
According Nnadozie, the company's main objective is to help in the nation's food security  and "to engage youths who want to go into scientific mechanised farming and to collaborate with the supervisory   agencies like the Nigeria Incentive-Based Risk-Sharing system for  Agriculture Lending (NIRSAL), Ministry of Agriculture and Rural Development, Imo Agricultural Development Programme, Imo Investment Promotion Agency, among others.
These agencies, he said, would visit  from time to time each of the participants' farming estate because they would also help the farmers to access loans from financial institutions and grants from funds granting bodies.
He further informed that the Imo State ministry of agriculture shall as well supervise and provide extension officers and with the officials of the Agricultural Development Programme (ADP) that would from time to time educate the farmers and direct them appropriately on how to apply the inputs. The essence, he said, is for the farmers to have optimum production and yield.