Transport Business
Nigeria approves 45-year concession of $2.59bn Badagry seaport
August 4, 2022151 views0 comments
By Chisom Nwatu
The Federal Government of Nigeria has approved the sum of $2.59bn for the development of the Badagry Deep Seaport project under a Private-Public Partnership.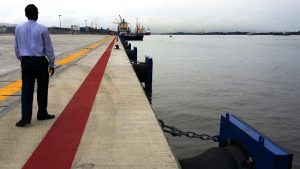 Mu'azu Sambo, minister of transportation, who announced the approval after the Federal Executive Council (FEC) meeting in Abuja on Wednesday, said the port would be operated by the private sector for 45 years under a Build-Own-Operate-Transfer delivery system.
At the expiration of the concessionary period, the seaport would be reverted to the government through the Nigerian Ports Authority, he said.
"The project cost as contained and approved in council based on the final business case as approved by the Infrastructure Concession Regulatory Commission in line with extant laws stood at $2.59bn. It has to be developed in four phases with milestones and a concessional period of 45 years. Reversion is, like I said, to the Federal Government of Nigeria," Muazu told State House correspondents in Abuja.
The minister noted that the project would further the government's goal of making Nigeria the maritime hub of the West and Central Africa sub-region.
"This project, it may interest you to know, will also generate total revenue of over $53.6bn over the concession period. It will create about one quarter million jobs and also attract foreign direct investments to the country and help in improving Nigeria's economy in general and the wellbeing of Nigerians," he said.
Plans to develop the Badagry deep seaport were first announced by APM Terminals and its consortium partners, including Orlean Invest, the Macquarie Group, Oando, the Chagoury Group and Terminal Investment Limited, in November 2012.
In May this year, Babajide Sanwo-Olu, Lagos State governor, said the Badagry deep seaport was conceived as part of efforts to decongest the Apapa seaport.
The governor, speaking at the All Markets Conference 2022 in Lagos, said the state government had secured land but was only waiting for the approval of the Federal Executive Council (FEC) to commence the project.
The deep-water full-service port, when completed, would be one of the largest in Africa with 7km of quay and 1,000 hectares (2,470 acres) of dedicated yard, and would include state-of-the-art facilities for container, bulk, liquid bulk, Ro/Ro and general cargo as well as oil and gas operations support and a barge terminal.
Plans for the adjoining Badagry Free Trade Zone will include a power plant, oil refinery, industrial park and warehousing and Inland Container Deport functions.