By Godfrey Ofurum, Aba
The Abia State government has appealed to indigenes of the state in the diaspora to get more involved in the economic development of the state.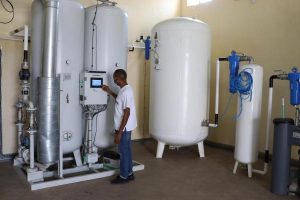 Okezie Ikpeazu, the state governor, made the appeal at the commissioning of a medical and industrial oxygen production plant in Obingwa Local Government Area of the state.
The plant, built by Emeka Nwakanma, an Abia medical doctor based in the United States of America, is the first of its kind in the state. 
Ikpeazu, while commissioning the plant, extolled the vision and commitment of the investor to give Abians better lives and described the investment as one of the numerous dividends of the sustained peace and security in the state since the coming of his administration.
The governor, who was represented by Okey Ahiwe, his chief of staff, encouraged others in the diaspora to think home and embark on investments that will add value to the citizens and advised the host community to ensure adequate security of the oxygen plant. 
He assured Abians both at home and abroad that his administration would continue to partner with genuine investors who are interested in establishing economic activities that will help create jobs for the people, especially youths. 
Nwakanma, who is the chief executive officer, Neu-Dyx Global Investment Limited, said the establishment of the medical and industrial oxygen plant would end ugly experiences patients and hospitals pass through as a result of shortage of oxygen in the state, which results in high cost and deaths of some citizens.
He stated that the company produces purified medical oxygen made with stainless steel material at the percentage recommended by the World Health Organisation at a reduced rate that would lower the cost burden on the patients that need them at the hospitals and for private use.
Joe Osuji, the state commissioner for health, said the oxygen plant, the first to be established in the state, would complement other health facilities of the Ikpeazu administration in the state.
Osuji, who was represented by Franca Ekwueme, permanent secretary, Ministry of Health, noted that the plant is a distinctive project aimed at strengthening the health system as it is affordable and sustainable. 
Eric Acho Nwakanma, a former deputy governor of the state, in a goodwill message, thanked the governor for providing adequate security that has attracted foreign-based Investors to the state as well as reduced unemployment and crime in the area.
Ben Kuba, state chairman, Private Hospital Doctors, said the establishment of the oxygen plant in the state has reduced the risk of going to other states to source for oxygen and assured of their partnership with Neu-Dyx.
Uloma Nwogu, chairman, Obingwa LGA, on behalf of Amapu Umunwulu Village, Isiala Mbato Autonomous Community, the host community, thanked Emeka Nwakanma, the investor, for siting the project in their area.
She assured the investor of adequate security while appealing for the employment of their indigenes to work in the plant.