Commodities
Nigeria approves first modernised breeding cassava varieties
December 22, 2020609 views0 comments
By Onome Amuge
Five new cassava varieties developed with support from NextGen Cassava, a project based in Cornell University, New York, have been approved for release in Nigeria.
The varieties which were approved by the National Root Crops Research Institute (NRCRI) in collaboration with the International Institute of Tropical Agriculture (IITA) are the first varieties released using modernised breeding technologies.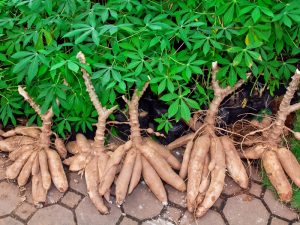 According to NRCRI, the cassava varieties named; Game-Changer, Hope, Obasanjo-2, Baba-70 and Poundable, feature high yields and robust disease resistance important for farmers and characteristics sought by consumers.
The research institute further explained that Poundable is the first fresh market variety released in Nigeria. Hope and Baba-70, it said, have excellent gari and fufu quality to address the processed food market, while Game-Changer and Obasanjo-2 possess high and stable starch content, desired by industrial processors for flour, starch and ethanol.
Sabo Nanono, Nigeria's minister of Agriculture and Rural Development commended the research institutes for their efforts towards the production of the new NextGen cassava varieties which, according to him, would address the needs of the cassava industry.   The minister also expressed optimism that millions of Nigerian cassava growers would get access to the new varieties.
Chidozie Egesi, the NextGen Cassava project director, stated that the project has improved varieties in the release pipeline in Uganda and Tanzania and is hopeful the varieties released in Nigeria will serve as a guide for future releases in other regions of Africa.
"The varieties have been through years of rigorous testing and evaluation with farmers and processors. The breeding team prioritized input from farmers —particularly women, who play a critical role in the cassava value chain — to drive breeding decisions and produce varieties for release," he added.
Ismail Rabbi, a molecular geneticist and plant breeder at IITA and a member of the NextGen project, noted that the new varieties would prove relevant to cassava farmers and processors in Nigeria who had long faced hurdles, whether from diseases like cassava mosaic disease or cassava crops that do not have the desired color or texture necessary for processing.
The new varieties are expected to be available to farmers and processors in Nigeria through the newly formed early generation cassava seed companies, IITA GoSeed and Umudike Seeds, which have proactively multiplied stems of the new varieties in anticipation of the official release. The companies will be the channels for early generation seed projection, marketing, and distribution of certified planting materials of the five NextGen Cassava varieties throughout the country.
The NextGen Cassava project is funded by the Bill & Melinda Gates Foundation and United Kingdom's Foreign, Commonwealth & Development Office.