Frontpage
Nigeria economy slump continues as GDP contracts 0.5% in first quarter
May 23, 20171.7K views0 comments
Nigeria's economy continued its slump and contracted for a fifth consecutive quarter in the three months through March as oil output declined.
Gross domestic product in Africa's most populous nation shrank 0.5 percent in the first quarter from a year earlier, compared with a revised 1.7 percent contraction of in the final three months of 2016, the Abuja-based National Bureau of Statistics said in an emailed statement on Tuesday. The median of eight economist estimates compiled by Bloomberg was for the economy to expand by 0.3 percent.
Economy took a hit after oil prices crashed in mid-2014, and militants from the crude producing Niger River delta destroyed pipelines causing production to fall to an almost three-decade low. That and power shortages weighed down output, causing the GDP to shrink a revised 1.6 percent in 2016, the first full-year contraction in a quarter of a century. Foreign-currency shortages fueled by falling oil exports caused inflation to accelerate every month for more than a year until January.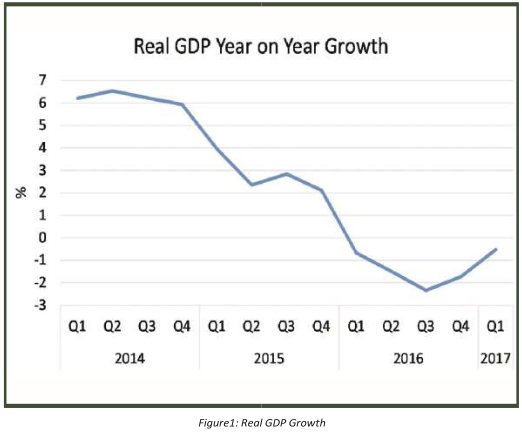 The oil industry contracted 11.6 percent from a year earlier, the statistics office said.
The International Monetary Fund forecasts the economy will grow by 0.8 percent this year and the World Bank predicts expansion of 1.2 percent. The government said recovery will be driven by a rebound in output of oil, which accounts for two-thirds of its revenue, as well as increased state spending.
The central bank, which will announce its decision on interest rates later on Tuesday, has moved to improve foreign-currency liquidity by allowing portfolio investors to trade dollars at market determined rates and removing a 197-199 naira peg. The regulator still intervenes to keep the official interbank rate at about 315 per dollar and continues to block importers of certain products from accessing hard currency on the official market.
Lawmakers approved a 21 percent increase in 2017 spending plans to 7.4 trillion naira ($23.5 billion). The government plans to spend 30 percent of the budget to build roads, rail, ports and improve the power sector in order to stimulate business and create jobs. The office of Vice President Yemi Osinbajo said he will sign the spending framework into law as President Muhammadu Buhari is in the U.K. on a second medical trip since the beginning of the year to treat an undisclosed ailment.
---
Courtesy Bloomberg