Frontpage
Nigeria forex scarcity forces Delta Airline to suspend New York-Lagos flights
August 30, 2022352 views0 comments
By Sade Williams/Business a.m.
Nigeria's lingering foreign exchange scarcity that has hit many international carriers with millions of dollars worth of ticket sales money trapped in the country may have got to Delta Airline, which introduced direct flights from New York to Lagos not too long ago, as it has decided it would suspend the service from October 7, 2022.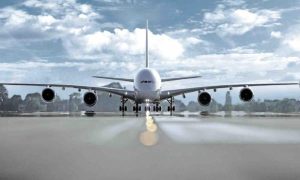 Although it did not directly link the stoppage to the difficulty international carriers are facing with repatriating their funds from Nigeria, analysts say the decision might not be unconnected given that it also operates scheduled services between Atlanta and Lagos, and would therefore like to cut the weight of its trapped funds.
The flights have been direct from New York's JFK airport to Lagos Murtala Muhammed International Airport.
In a statement to customers on Tuesday 30 August, 2022, the airline stated that the route suspension was due to low season and to fit into "the current demand environment."
"As we proceed into the low season, effective October 07, please be informed that LOS-JFK direct flights will be suspended.
"We regret any inconveniences caused. Ticketed passengers will be rebooked on the ATL daily flights.
"Delta is suspending its nonstop service between New York-JFK and Lagos to fit the current demand environment.
"The airline continues to operate service between Lagos and Atlanta and offers onward connections to New York and other cities across the United States.
"Customers impacted by our suspended New York-JFK to Lagos service will be re-accommodated on Delta-operated flights or services operated by our joint venture partners. Delta remains committed to the Nigeria market.", the statement reads.
Delta's communications contact in Lagos also confirmed that 'the last date of service for its New York-JFK to Lagos flight will be 6 October 2022 and last service departing Lagos to New York-JFK will be 7 October 2022.'