Energy
Nigeria to earn $50bn from oil projects in five years, says NCDMB
May 22, 2023138 views0 comments
By Cynthia Ezekwe
The Nigerian Content Development and Monitoring Board (NCDMB) said that Nigeria is expected to generate over $50 billion from oil development projects spearheaded by indigenous oil companies in the next five.
The projects were outlined at the two-day Nigerian Oil and Gas Opportunity Fair (NOGOF), held recently by NCDMB, with participation from international and local companies, including Shell PLC and the Nigerian National Petroleum Company Ltd.
Simbi Kesiye Wabote, NCDMB executive secretary, while speaking on the projects said,  "Some of the opportunities are from the indigenous players, some by NNPC Ltd and the international oil companies. If you put them together, in the next five years they would exceed $50 billion that would be invested in the Nigerian oil and gas industry.''
Wabote noted that one of the projects is Shell Nigeria exploration and production Co.'s expansion of its Bonga oil field development. He explained that the already-operational northwest section of the field can produce about 65,000 oil-equivalent barrels a day.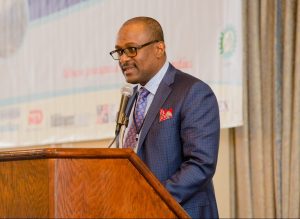 He acknowledged oil development in the West African country has been hit by financial, security and regulatory hurdles, noting that most  projects proposed at previous NOGOFs have come to fruition, while others are challenged by security concerns, final investment decisions (FID) challenges, bankability and regulatory requirements and approvals.
The NCDMB official called for the elimination of policy inconsistencies,  and urged relevant agencies to pass supplementary laws to the Petroleum Industry Act "to give investors the necessary confidence to move ahead", the press statement said.
Wabote also called on the government to address  the wanton crude oil theft in the Niger Delta, so as  to enable the production of hydrocarbons at reasonable costs and profitability.
He further expressed his regret  that most indigenous operators were unable to evacuate their crude oil through pipelines for over one year and are now forced to explore alternative options at high costs.
Oil is a key component of Nigeria's economy. In the latest data by the National Bureau of Statistics, published February 22, petroleum and natural gas comprised 4.34 per cent of the nation's gross domestic product in the last quarter of 2022, making this sector the fifth-largest contributor to the economy behind crop production, trade, telecommunication and information, and real estate.